Out and About--Minnesota Wild at The Xcel!
Coming off their best season on record The Minnesota Wild will be working on improving those results. A few new faces will be with the team this year as they make another run at the cup! How about considering attending a Wild game with your senior loved one? We all share a long hockey tradition here in Minnesota, even if you have never played the game.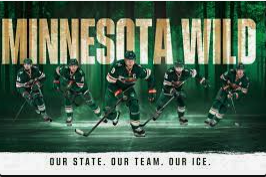 Xcel
The Xcel Energy Center is widely regarded as one of the best hockey venues in the NHL. Xcel Energy Center has accessible seating on every level of the arena. You can buy accessible seats either through ticket master or by calling the Wild's phone line set up exclusively for accessible seating at 800-877-7575. Excel also has bariatric seating that accommodates people up to 700 pounds. These seats are available exclusively by contacting Xcel. Elevators are located throughout Xcel Energy Center and access all public areas of the arena. Should you need assistance in reaching your seat, please contact a Guest Services staff member. All of the bathrooms at Xcel are ADA-compliant for accessibility. Like most sports venues, it's always a great idea to plan your trips to the bathroom or restaurants to avoid crowds. The lines get long for all the restrooms between periods, but heading a little early or later will radically reduce the wait times.
Wheelchairs
Wheelchair escorts are available for guests who may require additional assistance to and from their seats. A pre-arranged staff will meet a guest at the designated gate and assist the guest to their seating area. At the conclusion of the event, an escort will return to the guest's seat and escort them to the nearest exit. Please note the escort will not remain with the guest during the event, nor will the wheelchair be left with the guest during the event. This service is for transport needs only. Additionally, escorts are available only on Xcel Energy Center property and are not permitted to transport beyond the arena property. If you bring your own wheelchair much of the wheelchair seating is located around the top row of each section of the arena. The great thing about Xcel is that the view is excellent from almost anywhere.
To arrange a wheelchair escort, please fill out this Guest Services Form. Guest Services will also assist with storing a wheelchair if a fan wants to transfer to a seat, contact them to arrange this by calling 651-726-8200. The seating area in front of your chair can be tight so it's wise to consider your mobility needs before you decide to take a standard seat.
Public Transportation and Parking
Convenient accessible parking is available at the RiverCentre Parking Ramp. Guests using the RiverCentre Parking Ramp may access Xcel Energy Center via the skyway, which is connected to Xcel Energy Center. Another convenient option is the Kellogg Parking Ramp. Don't forget the skyways if you park nearby downtown and want a direct link to the facility. If you need additional ideas on how to get to the game check out our blog on how to get seniors safely around the Twin Cities.
Travel By Bus or Light Rail
Xcel Energy Center is easy to access from several Metro Transit bus lines and the light rail Green Line servicing the downtown Saint Paul area. Metro Transit offers an online Trip Planner that allows travelers to create a custom personal schedule to travel by bus or light rail to Xcel Energy Center. Visit metrotransit.org for more information. A trip plan would like like this but be aware it may not fit everyone's mobility needs.
Skyways
Many of Saint Paul's city blocks are conveniently connected on the second floor by five miles of an award-winning skyway system. The skyway is an above-ground, climate-controlled walkway that connects the buildings in downtown Saint Paul. Maps are located throughout the system and each walkway is color-coded to make navigating easy.
Food
Xcel and the Wild have several excellent areas where you can enjoy first-class food, wine, beer, and spirits. The newest restaurant is Flynt & Kyndle, where an inviting atmosphere meets social-inspired food and crafted cocktails. This seated VIP dining experience features three rotating menus with crafted salads, rotisserie meats, shareable sides, and delicious desserts delivered table side. Quicker and less expensive fare can be had at Mich Golden Light Fan Zone, with its 40 flat-screen TVs just outside gate 4, or the Goal Line Spirits and Eatery near section C23. If you have particular dietary restrictions check out this handy guide to special fare. My son was particularly interested in the mini donuts and mounds of cookie dough you could buy on the concourse.
The Local Food Scene
There is also a good variety and should you prefer the local area has some fantastic venues as well. Many restaurants form a vibrant bar and restaurant area including former North Star Tom Reid's Hockey City Pub, legendary Cosetta's Italian restaurant, and relative newcomer, Burger Moe's. Cosetta's expanded a few years ago and the newly remodeled restaurant also has a good selection of Italian wines, liquors, and an Italian grocery store. Tom Reid's is a fun place to go for a hockey game but be sure to arrive early because patrons often stay put instead of attending the game at Xcel. Giving them the chance to watch the game with old number 20--Tom Reid--himself! A lot of local and nationally known athletes stop by Reids. This revitalized area, known to locals as West 7th, is a hotbed for fun places to eat, drink and enjoy some of the best St. Paul has to offer.
So how will the Wild do this season?
No doubt having Kirill Kaprizov energizing the team will be huge this season. Coming off a year where he broke the Wild's single-season scoring record, in just his second campaign, makes you wonder just how good he will get as he matures in the NHL. According to Matt Dumba "Kaprizov expects to score every time he has the puck"--and with his talent why not! This year the team did lose a significant scorer with the departure of Kevin Fiala. Further fallout from the Suter and Parise payroll they have strapped around them for 2 more seasons. Fiala's departure opened up an opportunity to bring Marco Rossi onto the team. The overall ninth pick of the 2020 hockey draft he played very well in the preseason leading the team in scoring.
Certainly, Wild head coach Dean Evason will need to get a lot out of his players just as he has in the past. The team is young and talented with a veteran goaltender, Marc-Andre Fleury, playing in that pivotal position. It reminds me of some of the championship Twins teams of the past. A balance of young talent, a veteran player (Jack Morris or Bert Blyleven for the Twins), and a leader that relates well with his players.
No matter what, attending a hockey game with your family in St. Paul is a great way to enjoy time--and cheer hearing the horn when the Wild score!