Accessibility and Getting Around our Great Area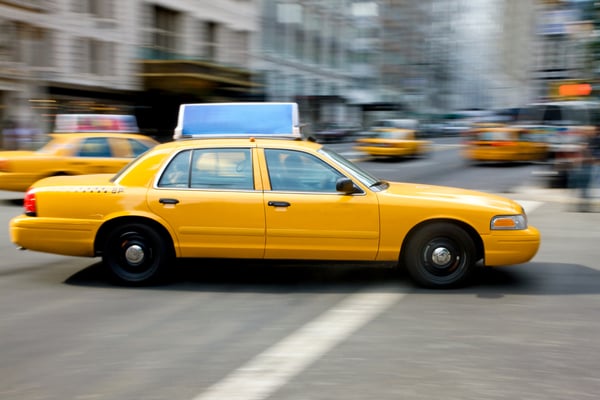 The Twin Cities area has an extensive number of options for people with different handicaps to get from one place to another. Mobility issues can range from being unsteady and perhaps needing a walker all the way to wheelchair or scooter. Often we feel like the only way to get from place to place is having a trusted friend or relative take us. They can help us transfer into a vehicle and back and so it's generally the best solution. However there are times when we need to look for other methods.
Things to Consider
It's good to think of all of the issues that could impact you when you're traveling with or helping a person with mobility issues navigate from place to place. Each system will make some accommodations to help people that need assistance but they will vary--they can even vary from driver to driver. An understanding of some of the obstacles is a good place to start.
Door to Door: Supplemental transportation services like taxis or Uber will pick you up outside your door and drop you at the door of your destination. There is no assistance getting in and out of the vehicle nor into the buildings.
Door-through-Door Service: Private agencies provide drivers who offer personal assistance (wheelchair help, help with bags, etc.) through a passenger's door and on through the door of their destination and back. Consider if you are being dropped at a mall or hospital the service generally stops at the door of the facility, not at the store or suite.
Payment Method: Insurers, medicaid, and other governmental agencies will provide a variation of financial assistance depending on need or insurance. You need to have this figured out prior to setting up a ride--often you will be provided with an eligibility card--otherwise you may be required to pay full fare.
Advance Registration: Many systems will require you register with them prior to booking a ride. This process can take days to weeks depending on the system and their backlog--plan ahead. Again registration cards are often provided.
Ambulation Assistance: You may see that customers must be able to "ambulate", or walk, in and out of the vehicle. Drivers in these situations usually cannot legally help a customer get in and out of the vehicle due to governmental and safety guidelines.
Wheelchair or Scooter Considerations: Generally there needs to be a way to accommodate the wheelchair or scooter in the vehicle without impacting the safety of the driver and passenger. This may mean it's put into the backseat or trunk and doesn't impair the driver's vision. Scooters generally require quite a bit of space and generally a place for the driver to ride--perhaps help with ambulation. *see the note on ADA mobility devices below.
Wait Times: One of the biggest drawbacks of using the various transportation options are windows of time for pick up at both ends of the trip. Be sure you are prepared for the windows and know your options--like limiting unacceptable issues like setting up a pick up time that is "no earlier than".
Mobility Devices
By ADA (Americans with Disabilities Act) definition, a wheelchair is a mobility aid belonging to any class of three or four-wheeled devices, usable indoors, designed for and used by individuals with mobility limitations, whether operated manually or powered. These devices include scooters and Segways.
According to the ADA, in order to be carried in a public transit vehicle, such a device cannot exceed 30 inches in width and 48 inches in length when measured two inches above the ground (with the exception of Segways). The ADA also states that service will not be provided if the combined weight of the rider and the wheelchair exceeds 600 pounds. For the safety of our passengers, Metro Transit's wheelchair securement system is designed for front facing riders using all four straps.
When possible, for the safety of the occupant, occupants of scooter-type wheelchairs will be asked to transfer from the scooter to a vehicle seat.
Paratransit
Even though there are issues with public transit, there are also ways around them. If you do have problems with mobility, then you may want to consider paratransit: a transportation system specifically designed to accommodate seniors and others with limited mobility.
Paratransit vehicles are often buses or even cabs, specifically equipped to handle wheelchairs and the like. They travel the same approximate routes as your local public transit, but are more flexible in their stops and will pick passengers up at their homes.
In order to use paratransit, first you need to qualify under the Americans with Disabilities Act. In other words, you need to show that your mobility issues prevent you from taking regular public transit. Qualifications are different in different areas, but factors considered include:
What your disability is
Your level of functionality and mobility
Obstacles in your area that may prevent you from reaching public transit on your own
Environmental conditions
Providers
Metro Mobility is the primary resource for people with wheelchair and scooter assist needs in the Twin Cities. They can take a variety of payment methods and their service will bring people anyplace regardless of purpose--you do need an authorization card to schedule a ride based on eligibility. It is a shared ride service which is probably the most difficult aspect of riding on this service. There are windows of time they have for pick up and often riders need to wait for their ride. You can schedule a ride 1-4 days in advance and the driver will generally arrive within a 90 minute window. It is possible to set up a "not earlier" than time if that's necessary. They do not accept same day rides during peak travel times however you can ride on a standby basis if you live in certain geographic locations. Standing orders can also be put in their system if you have a regular pick up and destination. A couple things to remember: there may be reduced availability when traveling outside of the metro area, if you miss or have late cancellations of your rides, you can be penalized by having your Metro services suspended.
The following list indicates whether you might be eligible for Metro Mobility Ridership:
A person is physically unable to get to the bus because of their disability or health condition within an area that the fixed-route serves.
A person is unable to navigate the regular fixed-route system because of their disability.
A person is unable to board or exit the bus at some locations because of their disability.
Pre-registration by phone is required prior to scheduling the first ride, call 651-602-5465.
A dial-a-ride minibus for those who live in an area not serviced by regular fixed routes. Free transfers are available to bus routes. Transit Link provides both curb-to-curb service for the general public and door-to-door service (upon request) for ADA certified riders. Call 651-602-LINK (5465) to make Transit Link reservations in advance.
Anoka Traveler
Anoka County Transit, in conjunction with the Metropolitan Council, provides Transit Link dial-a-ride transit service in Anoka. This service requires advanced reservations. Transit Link is public transportation that operates where regular fixed-route transit is unavailable. This service operates using accessible buses. Anoka also offers Med Link. This service is run by volunteers and provides persons with handicaps, veterans and seniors rides to medical appointments, and trips to Anoka Government buildings. To register please call reservations at 763 324 3255. The program runs on donations between $5 and $10 per ride.
Washington and Ramsey County
Washington and Ramsey county have a variety of services available but not a single site like the Anoka Traveler. To find out more you can look into each cities website or the Senior Linkage Line has people that will assist with finding transportation for seniors. If you're more of an online searcher you can navigate Minnesota Help.Info and search on transportation type, payment type and VA transportation.
White Bear Lake has an online resource that describes various resources and their representative costs on their senior website.
Northstar
Northstar Commuter Rail service is fully compliant with the Americans with Disabilities Act. All station platforms will include ramps to provide easy roll-on access for passengers in wheelchairs or with strollers. Each Northstar passenger car also is equipped with a wheelchair lift and space to accommodate four wheelchairs. Passengers can take the Northstar all the way from Big Lake to MSP Airport, Target Field and the Mall of America. Riders can change from the Northstar to the Light Rail at Target Field Station.
Light Rail
If your destination is downtown Minneapolis or St. Paul you likely need to change to the commuter light rail line at Target Field. The METRO Blue Line offers fast, quiet light-rail service between downtown Minneapolis and Mall of America.
The METRO Green Line has many destinations to choose from: the history of the Capitol City, the cuisine along University Avenue, the energy of the University of Minnesota campus, the bustle of downtown Minneapolis.
The METRO Blue & Green Line lines charge the same fares as local buses. Light rail trips operate every 10 minutes throughout the day, every 10-15 minutes evenings and every 30-60 minutes overnight. Light-rail trains offer step-free boarding, and are equipped with designated sections for customers using wheelchairs. In addition, all station platforms are fully accessible.
Private Providers
Lyft and Uber
While both Lyft and Uber provide handicapped assisted rides they are based on a driver being available. If you use a wheelchair both companies require that you can ambulate yourself into the vehicle and that your wheelchair be able to be placed in the trunk or back seat of the vehicle without impacting the driver's ability to see. At the time of this writing neither company had drivers available for this service.
Airport Taxi
Airport taxi has multiple vehicles that can accept wheelchairs that offer drive on and off the vans. These vehicles are available either scheduling when needed or in advance. All of the drivers have been trained to handle passengers with special needs. They accept some forms of MA and other types of payment--check in advance. There can be periods of limited availability of vans and driving distances so there is the possibility of long wait times.
Don't Give Up
While it can be challenging getting around the area with these providers people that use these services say it gets better once they know the challenges and idiosyncrasies.