Seeing loved ones over the holidays provides a great opportunity to evaluate their health and well-being.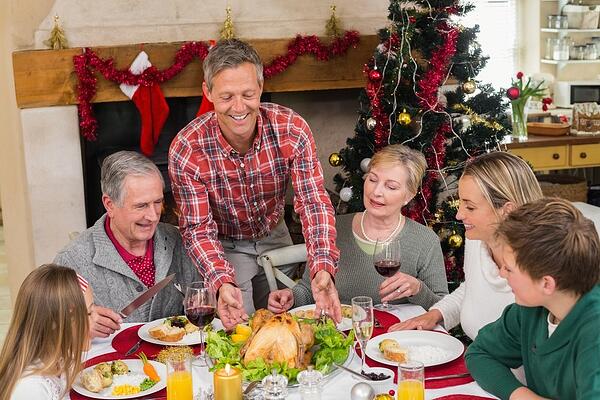 As the U.S. appears to be on track to experience another record-setting holiday travel season, more Americans than ever will be spending time with their extended families. For the adult children of seniors, especially those who may only see their parents periodically, the holiday gatherings also offer the chance to check in on the overall health and wellness of their parents.
Are they doing okay? Do they need help? Is their physical, mental, emotional, and financial health steady or have there been dramatic changes? These are all important areas to investigate, especially when the parent is living alone.
In many families, it's often the case that one adult sibling lives close to the senior parent, seeing them on a semi-regular basis. And while it's natural for siblings who live further away to accept the judgment and perspective of the sibling who lives close by, it's still important for them to remain curious and judge for themselves. Many times, people who spend all their time around someone won't notice gradual changes that may be taking place. But for those who live apart, spotting changes or serious issues can be easier.
As much as adult children may not like to contemplate the thought that their parents may be declining in health or abilities, for most families it's a fact of life they will confront sooner or later. LongTermCare.Gov estimates that 70 percent of those 65 and older will need some form of care. The type of care needed and how long it's needed can vary greatly from person to person.
When Help May Be Needed
During the holiday visit, two sets of activities should be monitored for signs that a senior parent may need assistance – Activities of Daily Living (ADLs) and Instrumental Activities of Daily Living (IADLs).
ADLs are the everyday things, like bathing, using the restroom, eating, and moving from position to position. If a senior is having accidents, bathing infrequently, or wearing the same clothes day after day, it's probably a sign he or she is finding these tasks difficult and needs some level of assistance.
IADLs are the more difficult daily duties that require greater levels of physical and mental engagement. IADLs include meal preparation, housekeeping, taking daily medications, and managing finances. If a family finds that their parent or parents frequently forget to take prescription medications, or is no longer able to keep a neat house, those are additional signs that it may be time to seek help. Here's a related guide about when it's time to consider in-home care.
In-home help and care agencies, like Comfort Keepers® of Anoka and White Bear Lake, offer services that can assist families as needed with both ADLs and IADLs. However, when certain changes or conditions arise, families are wise to make appointments with medical professionals.
These red flags include:
Changes in overall mood or attitude
Significant weight gain or weight loss
Changes in skin tone or color
Hair loss
Loss of mobility or decrease in mobility
Inability to do everyday tasks
Feelings of disinterest in normal everyday activities
Loss of interest in their favorite hobbies or interests
Significant memory loss
Sudden confusion
Signs of depression
Feeling unexpectedly tired or complaining of not sleeping
Sudden, unexplained outbursts
These may be indications that a senior has a more serious or worsening condition developing. If this is the case, getting them to the doctor to discover the root cause of these conditions soon is the best course of action.
Comfort Keepers, with local offices in Anoka and White Bear Lake, is a leading provider of in-home care for seniors and other adults in the northern Twin Cities. For information on Comfort Keepers services and resources for families and caregivers, visit our home page.