With the Twins going nowhere this season we are starting to pin our hopes for championships on the Vikings. It's a classic Minnesota situation: the season hasn't started so hope springs eternal!
The Vikings kick-off their 61st season in the NFL on September 12th against the Cincinnati Bengals in Cincinnati. The home opener will be going up against the always tough Seattle Seahawks on September 26th. The Vikings will be coming off Mike Zimmer's worst season other than his first year as head coach. The team has worked hard in the off-season to bring in more "veteran" players to plug the holes in the worst defense in Vikings history.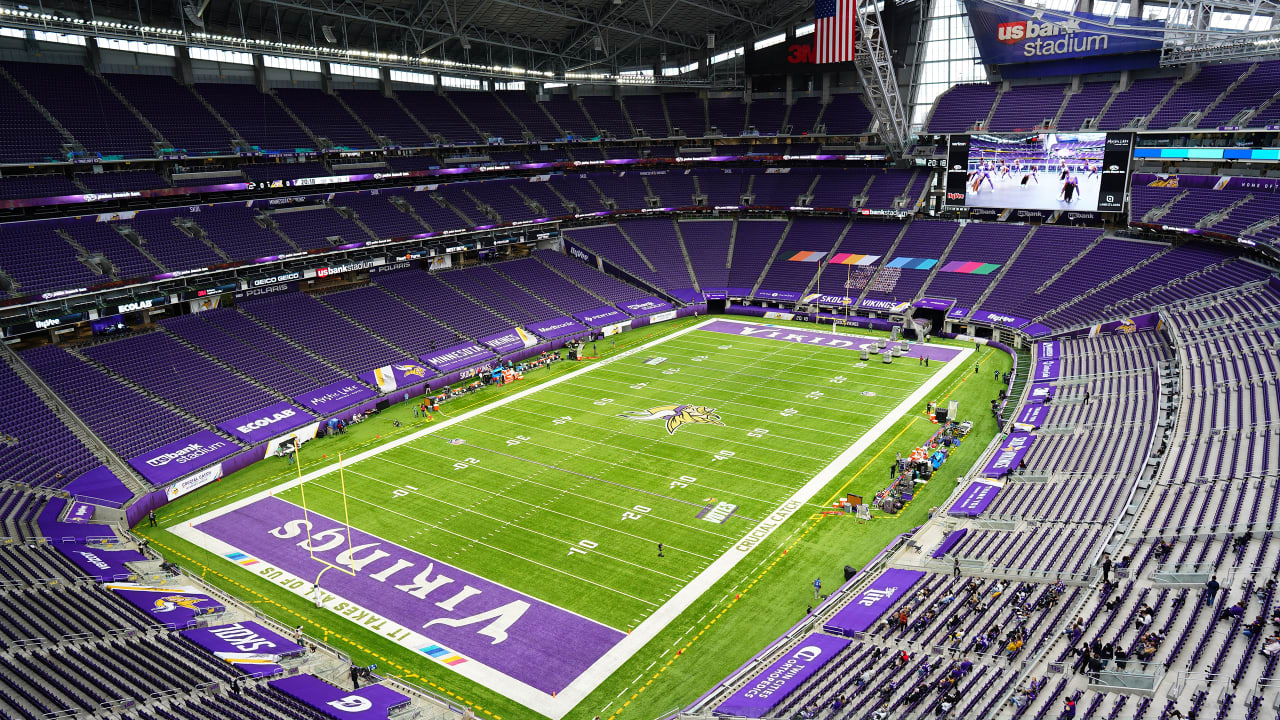 The Bank (US Bank Stadium)
Last year the games were primarily attended by cutouts of fans that still wanted to be in the stands. This year, keep your fingers crossed, fans will be returning to the stadium. Vikings games are almost always sold out which makes it a really good idea to have a plan before taking a senior friend or family member to the game. While the stadium has extremely wide concourses, they still become very crowded--but luckily at predictable times. Visitors with disabilities may find it easier to time their travel around the ebb and flow of the crowd. Typically the crowd arrives late to their seats as they spend extra time in the concourse areas around the food concessions. If possible, avoid the rush before the game, at halftime, and at the end of the game, by leaving earlier or later, making maneuvering easier.
Complimentary wheelchair escorts are available at any entry point. This season guests still can request an escort by locating the nearest Guest Experience Representative. Just like any organization, the Vikings may be encountering difficulty in filling these positions, so arrive early! The service is available to and from the entry gates and seating areas. Please be aware that the Vikings staff and stadium wheelchair will not remain with you during the event. If you require additional assistance or would like to reserve a wheelchair in advance contact their mobility assistance team by email at mobilityservices@usbankstadium.com or by calling 612-777-8761. U.S. Bank Stadium has wheelchair/limited mobility and companion seating with enhanced sightlines on all levels. Electrical outlets are available in ADA areas to recharge scooters and electric wheelchairs.
Seating for Seniors at the Vikings Game
Public elevators are located throughout U.S. Bank Stadium and may be accessed on the Main Concourse. Priority for use of the elevators is given to guests with disabilities. All the restrooms are handicap accessible including the Family restrooms. For more ADA information click here.
Public Transportation
Served by both the green and blue line light rail system and multiple bus routes, US Bank Stadium is easily accessible by public transit. A specifically dedicated accessible Pick-Up/Drop-Off zone is available during events at U.S. Bank Stadium. For Minnesota Vikings Games and other major events, the designated accessible Pick-Up/ Drop-Off zone is located on 10th Avenue South, between 6th Street South and 7th Street South. Remember to bring a mask to use any public transportation which is currently mandated by federal law.
Visit MetroTransit to plan your public transportation via Bus, Light Rail, or NorthStar Commuter Rail. Want personal help planning your transit trip? Call Metro Transit at 612-373-3333. We have also put together more extensive information for seniors getting from place to place on this blog.
Food
There is a variety of foods available at The Bank. Everything from your traditional hot dogs (skol dog) and burgers to Market BBQ and Revival Chicken. Many of the stadium venues are from local restaurants and put their best foot forward for the Vikings faithful.
The stadium is also partnering with chef and TV personality Andrew Zimmern with Andrew Zimmern's Canteen. The famous chef partnered with Gavin Kaysen, chef and owner of Minneapolis' Spoon and Stable restaurant to create delicious hoagies featuring rotisserie beef, pork, and more.

Special Seating Areas
For Vikings games, there is a large variety of seating areas available. Most of them are very accessible for visitors with disabilities. For any additional questions, please call Guest Services Hotline at 612-777-8777 or Mobility Services Hotline at 612-777-8761. The cost for certain seating venues can be quite high but can easily accommodate special needs. Suites include the Turf Club; Norseman and Touchdown suites to name a few. Some are available for single games. There are also numerous clubs in the stadium including the Truss Bar, Delta Sky Club, and Lodge Bar. Some of the clubs have excellent views of the game while others have the game on the big screen and other amenities that make the experience unique. Like access to seeing the players as they enter and leave the field. While the special seating is very nice, most of us view the game from the stands.
Fun Activities at The Bank
US Bank stadium is available for a number of tours which restarted on August 12th. You can schedule private tours or attend public tours that give you behind-the-scenes access to the stadium. There are also educational tours for grades K-12.
Vikings Voyage is an interactive activity fans can enjoy at the stadium. Try hitting the pads from a three-point stance, running for speed, and compare their times to football greats or seeing how nimble your feet can be in the tire drill. There is plenty of room for seniors to accompany the crowd that still thinks they can play in the NFL! You can do this while learning about the team's proud history. We just need that championship!
Archaeologists in the year 2221
(Idea borrowed from an old book by Jim Klobuchar)
Duster--" What did you find there?"
Digger--" More artifacts from that hungry band of faithful that were searching for a bowl. They were still hungry and searching for their supper bowl 200 years ago. To top it off, their leadership made them eat with masks on"
Duster--" What sort of leadership did they have to eat with a mask on?"
Digger--" I don't know but they made them wear helmets with faceguards too, so it must have been very tough to eat."
Duster--" Any information on their mighty leader Zim?"
Digger--" He seems frustrated by all of this--a lot of their followers were also frustrated it appears."
Duster--" It seems like a tough time for this civilization--anything else?".
Digger--" Yes I see a big object, perhaps it's the bowl! I just need to dig a little deeper."
Duster--" Yes, let's keep digging."
Digger--" Funny that's what Zim seems to be saying to his followers too!"
Is This the Year?
The Vikings have worked extensively to improve the offensive line and the defensive side of their game. That seems fair with the offense being ranked 4th in the NFL in 2020. It seemed Kirk Cousins was always running for his life on meaningful downs while stacking up the statistics after games were out of hand. As Bud Grant often said, "statistics are for losers". Gotta love Bud!
The hope this season is the two most important picks the Vikings made in the 2021 NFL Draft, at least in terms of immediate impact, were Virginia Tech left offensive tackle Christian Darrisaw in the first round and Ohio State offensive guard Wyatt Davis in the third. They have finally invested long-term in some big guys upfront. Hopefully, this will allow Cousins to make some meaningful plays at key times in the game.
On the defensive side of the ball, there were a lot of injuries last year to key people. The Vikings didn't get a single snap from edge defender Danielle Hunter or defensive tackle Michael Pierce.
This year, not only are both players available, and Minnesota added Dalvin Tomlinson and Sheldon Richardson. With Eric Kendricks and Anthony Barr still in the mix at linebacker, the Vikings project to have one of the league's top front sevens. There are some concerns in the secondary, but the Vikings added veterans Patrick Peterson, Bashaud Breeland, and Mackensie Alexander to give themselves options at cornerback. Cameron Dantzler figures to improve in his second season. Most importantly Zimmer has come to the conclusion that his defensive scheme is outdated and too predictable. He and his co-defensive coordinator Adam Zimmer are putting together a new scheme with a rebuilt defense for 2021. It's time to take the defense off cruise control and bring the heat!
Bring on the new season and fans in the stands! Dig a little deeper and find ourselves a championship.