Out and About Minnesota Vikings--At The Bank!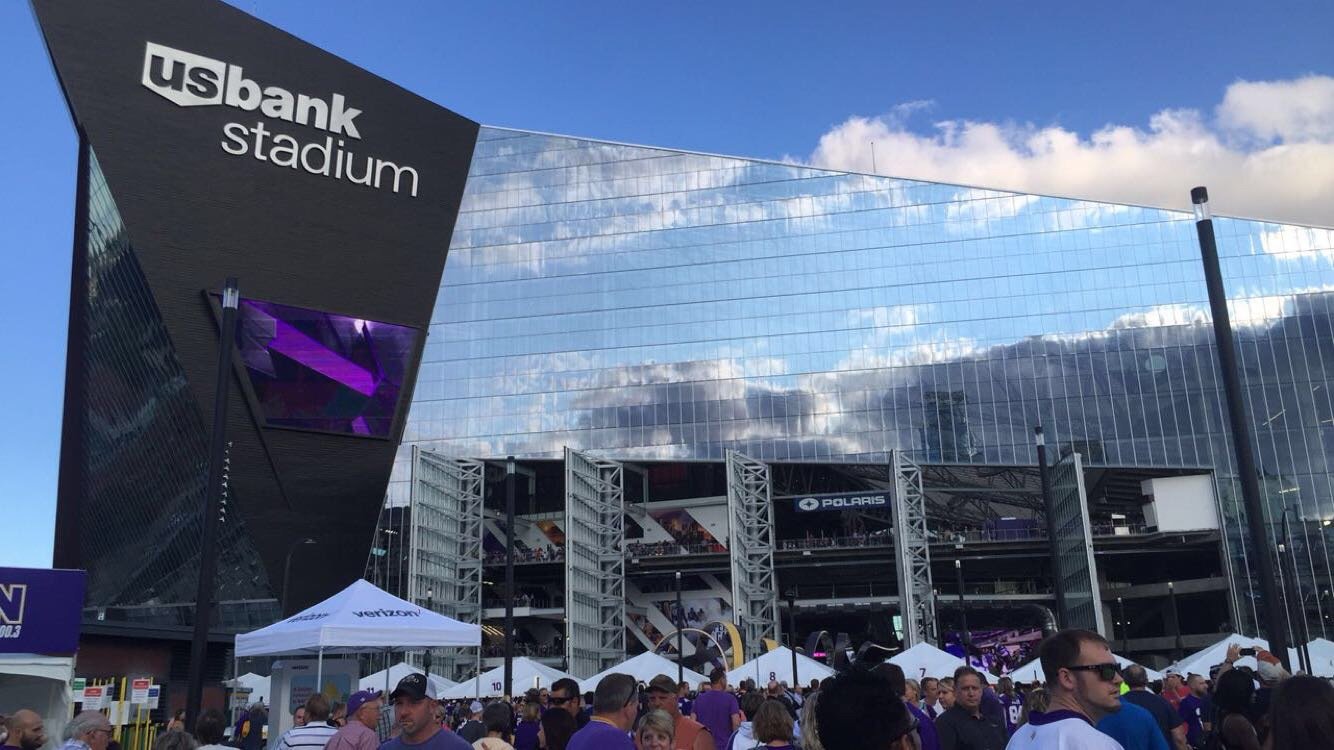 With the Twins on their way to the playoffs, the Vikings now start their run for a championship!
The Sports year got off to a bang with the Twins starting hot and eventually holding the best record in baseball. Now the Vikings are getting their considerable talent pool revved up for another run at the Super Bowl. The regular season starts September 8th as the Atlanta Falcons invade the The Bank.
The Bank (US Bank Stadium)
Vikings games are almost always sold out which makes it a really good idea to have a plan before taking a senior friend or member of your family to the game. While the stadium has extremely wide concourses, they still become very crowded, but luckily at predictable times. Visitors with disabilities may find it easier to time their travel around the ebb and flow of the crowd. Typically the crowd arrives late to their seats as they spend extra time in the concourse areas around the food concessions. If possible avoid the rush before the game, at half time, and at the end of the game, by leaving earlier or later, making maneuvering easier.
Complimentary wheelchair escorts are available at any entry point. Upon arrival, guests may request an escort by locating the nearest Guest Experience Representative. The service is available to and from the entry gates and seating areas. Please be aware that the Vikings staff and stadium wheelchair will not remain with you during the event. If you require additional assistance, or who would like to reserve a wheelchair in advance contact their mobility assistance team by email at mobilityservices@usbankstadium.com or by calling 612-777-8761. U.S. Bank Stadium has wheelchair/limited mobility and companion seating with enhanced sightlines on all levels.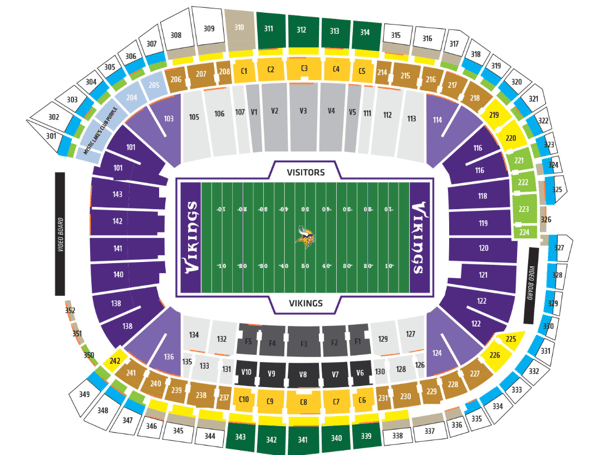 Public elevators are located throughout the U.S. Bank Stadium and may be accessed on the main Concourse. Priority for use of the elevators are given to our guests with disabilities. All the restrooms are handicap accessible including the Family restrooms. For more ADA information click here.
Public Transportation
Served by both the green and blue line light rail system, multiple bus routes, US Bank Stadium is easily accessible by public transit. A specifically dedicated accessible Pick-Up/Drop-Off zone is available during events at U.S. Bank Stadium. For Minnesota Vikings games and other major events, the designated accessible Pick-Up/ Drop-Off zone is located on 10th Avenue South, between 6th Street South and 7th Street South.
Visit MetroTransit to plan your public transportation via Bus, Light Rail, or NorthStar Commuter Rail. Want personal help planning your transit trip? Call Metro Transit at 612-373-3333.
Food
There is a great variety of foods available at The Bank. Everything from your traditional hot dogs (skol dog) and burgers to LemonGrass Meatballs and Revival Chicken. Quite a few of the stadium venues are from local restaurants and put their best foot forward for the Vikings faithful. You can have a refreshing Killebrew root beer, named for the legendary Twins player and Hall of Famer Harmon Killebrew. Other fan favorites include the Murray's Steak Sandwich, Kramarczuk's sausages, Izzy's Ice Cream and Angie's Kettle Corn.
The stadium is also partnering with chef and TV personality Andrew Zimmern with Andrew Zimmern's Canteen. The famous chef partnered with Gavin Kaysen, chef and owner of Minneapolis' Spoon and Stable restaurant to create delicious hoagies featuring rotisserie beef, pork, and more.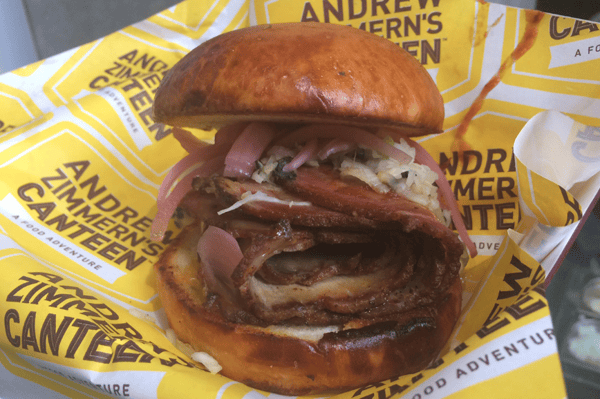 There are two locations inside the stadium. Fans can get a taste of Minnesota by enjoying fried chicken from Revival or a steak sandwich from Ike's Food and Cocktails. You can have a refreshing Killebrew root beer, named for the legendary Twins player and Hall of Famer Harmon Killebrew. Other fan favorites include the Murray's Steak Sandwich, Kramarczuk's sausages, Izzy's Ice Cream and the addictive Angie's Kettle Corn popcorn hailing from Mankato.
Special Seating Areas
For Vikings games there is a large variety of seating areas available. Most of them are very accessible for visitors with disabilities. For any additional questions, please call Guest Services Hotline at 612-777-8777 or Mobility Services Hotline at 612-777-8761. The cost for certain seating venues can be quite high but can easily accommodate special needs. Suites include the Turf Club; Norseman and Touchdown suites to name a few. Some are available for single games. There are also numerous clubs in the stadium including the Truss Bar, Delta Sky Club and Lodge Bar. Some of the clubs have excellent views of the game while others have the game on the big screen with other amenities that make the experience unique. Like access to seeing the players as they enter and leave the field. While the special seating is very nice, most of us view the game from the stands.
Fun Activities at The Bank
US Bank stadium is available for a number of tours. You can schedule private tours or attend public tours that give you behind the scenes access to the stadium. There are also educational tours for grades K-12.
Vikings Voyage is an interactive activity fans can enjoy at the stadium. Try hitting the pads from a three point stance, running for speed and compare their times to football greats or seeing how nimble your feet can be in the tire drill. There is plenty of room for seniors to accompany the crowd that still thinks they can play in the NFL! You can do this while learning about the team's proud history. We just need that championship!
Archaeologists in the year 2219 (Idea borrowed from an old book by Jim Klobuchar)
Digger--"what did you find there?"
Duster--"Artifacts from an ancient tribe called the Vikings. Apparently they roamed this area hundreds of years ago in search of a bowl."
Digger--"In search of a bowl?"
Duster--"It's hard to make out some of the ancient inscriptions but it looks like they must have been very hungry--they called it the supper bowl."
Digger--"How long did they search for it?"
Duster--"From what I can see it was a very long time. They had leaders like Grant, Lee, and Fran. That tribe got close to the bowl. Then there appears to be a great abyss while another tribe nearby, the Puckers, found the bowl."
Digger--"I found this new cup with a leaders name called Zim".
Duster--"Yes Zim chased the bowl as well. I wonder if he ever found it?"
Digger--"Let's keep digging."
Is This the Year?
Just like any season, we all are entering it with high hopes--perhaps even high expectations. The team stabilized themselves at a number of key defensive positions while adding some youth to the defensive line. Once again they are adding some talent to the offensive line from free agency, however this year they brought in Garrett Bradbury, a high draft choice, to add some capability now and in the future. The amazing Packer's seem in disarray, but the Bears were coming on strong last year. As always, it will probably be another interesting year decided the last weekend of the season. Hold on to your horns! SKOL!