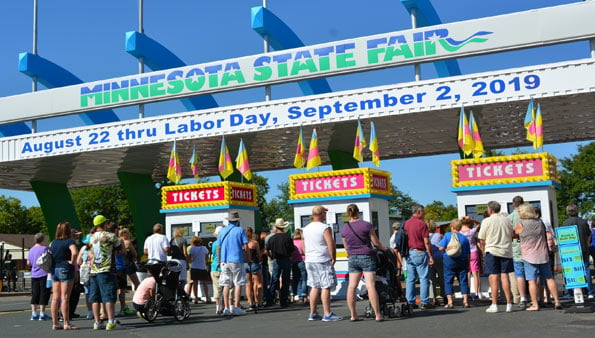 The Minnesota State Fair is, of course, the best State Fair in the country and runs from August 22nd to September 2nd this year! In terms of attendance, it's the second largest in the nation, second only to Texas, which is open several days longer. When you consider daily attendance--Minnesota wins! Most of us have been to the great Minnesota get together more than once in our lives. Many fair-goers are creatures of habit when they attend. Making their annual trek to Machinery Hill, the Grandstand or Midway. Don't forget the cookies and all the milk you can drink! When we bring along our senior loved ones, there are a few extra things to think about to make your time extraordinary.
Senior Day
Let's start with a way to get into the Fair and save some money! Discounted admission price for seniors at the entrance gates on both Monday, August 26th and Thursday, August 29th: $10 for seniors (65+). Deals on merchandise and food for all senior fair guests. Early Bird Specials are offered on Mighty Midway and Kidway rides & games until 1 p.m. Dan Patch Park features the UCare Stretch & Stroll, plus live music and health & wellness programming onstage.
Watch the Heat
August and early September can be some of the warmest days of the summer. Stay ahead of the heat and enjoy the beautiful trees all around. Keeping cool at the fair is commonly done with a cold drink and cool breeze. Just outside the Skyride and Space Needle there is a large grove of trees with lots of benches at the Leinie's Lodge Bandshell. This is a great place to listen to live music, people watch and cool down. The ultimate cool down can be the River Raft ride just off Judson and Nelson St. Now this may not be wise for seniors, however if you talk nicely to the attendant you might be able to go in and watch the rafters, and catch some of the cool mist. Another cooling mist is at the Haunted House across from the Horticulture building. This one is a little more dependent on the direction of the wind to cool down.
If someone does get overheated and needs medical assistance, the police headquarters, located on Dan Patch Avenue and just across from the west entrance to the skyride, also serves as an emergency medical facility. They would have ice packs and personnel to assist with heat related issues. There are always a lot of police on foot patrol at the fair to assist you.
For additional tips, check out this blog on summer safety for seniors!
Food
How do you even write about food at the Minnesota State Fair? It's the focal point for so many people when they attend. Just about everyone has their favorite; Martha's Cookies; Funnel Cake; Alligator; Cheese Curds; and the list goes on. Every year the fair holds a competition for new vendors and food choices. This year the list looks quite interesting and may give you a reason to save some room in your tummy. A partial list includes funky grits; stuffed cabbage roll; mini donut latte; cuban fusion fajita and more! Here is a list of new foods and purveyors.
Music
There are quite a few venues to listen to music at the Fair. The Leinie Lodge bandshell is a free venue which has a variety of talent all day long. Artists perform a variety of music in one of the best people watching places at the fair. The Grandstand is where you want to go for more of a concert environment. It's not free but you can see some excellent stars from the past and present. Grandstand performers include ZZ Top, Weird Al Yankovic, and Dierks Bentley.
Accessibility
Once you arrive at the fair, you can rent wheelchairs and scooters from Hometown Mobility. You can reserve online or call 877-928-5388. They charge $5 to set up rentals by phone. There are several places to pick up your rental and a 24 hour advance reservation is required. If you bring your own mobility device and need to recharge the batteries with a regular electrical outlet plug-in for charging an electric mobility scooter battery, there are two options on the fairgrounds: Care & Assistance south of West End Market is open 8 a.m. to 11 p.m. daily. Also, on the south side of the Grandstand outside between the entrance doors, outlets are designated with disability signs.
There are buses inside the fair grounds that can help you get from place to place. Check at the information desk for specific routes and fares.
Handicap Parking
The fair has handicapped parking on a first come first served basis. The cost is the same as standard parking ($15). This gets you close to the access points for the fairgrounds on a hard surface. Parking generally surrounds the fairgrounds but click the link for the best way for you to access the fair.
Restrooms
The fair has spent a lot of money upgrading their restrooms to be accessible. So there are many more options than just several years ago. When you look at a State Fair map look for this sign so you know you will have enough space and grab bars for assistance. Paper maps are readily available at Information booths or the entrance to the fair.
Public Transportation
State Fair Express Bus service features free parking and a direct bus ride to the fairgrounds for a small fee from farther-out suburbs around the Twin Cities. Twenty Express Bus lots are serviced by Metro Transit, Minnesota Valley Transit Authority and Southwest Transit.
In addition, several regular Metro Transit bus routes drop you off right at the fairgrounds. View a map of the Transit Hub at Gate #16 when it's available here in August.
Visit metrotransit.org/StateFair for more information about Express Bus service, regular bus routes and how to purchase bus tickets.
For additional resources on getting around town and to the fair, check out a previous piece we wrote on Getting from Place to Place.
Have Fun!
Don't be shy about bringing seniors to the fair. This is a place for everyone where the aromas and atmosphere bring back many fond memories for all. Generally to get the most out of the day with a senior, take a slower pace, stay ahead of heat related issues and smile often.