Managing Parkinson's with Self Care: Stress Management
Parkinson's disease is the second most common neurodegenerative disease in the U.S. after Alzheimer's disease, and the number of people affected by Parkinson's is increasing as the population ages.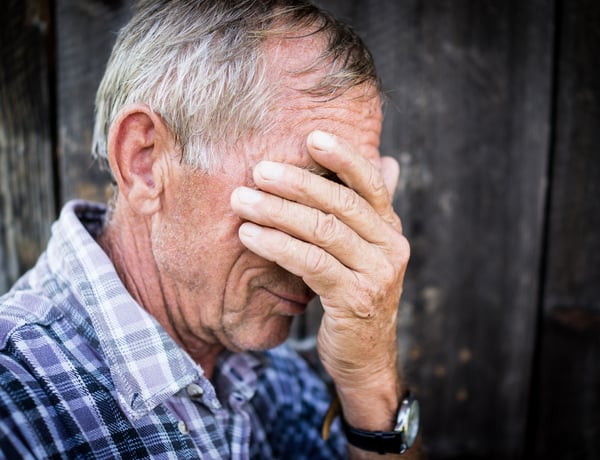 Parkinson's disease can manifest in the following ways:
• Tremors
• Balance problems
• Cognitive impairment
• Mood disorders
• Short steps and slowed movement (bradykinesia)
• Speech and writing changes
While there is no known cure for Parkinson's, taking steps to manage the disease can increase a senior's quality of life and help to reduce the impact of symptoms.
Those that have been diagnosed with Parkinson's should discuss management strategies with a healthcare professional. There are a variety of medications and therapies that a doctor can recommend. Parkinson's disease (PD) is an age-related degenerative disorder of certain brain cells. Not often considered dementia it is actually a form of Lewy body dementia. Most people with Parkinson's develop dementia-like symptoms as a progression of their Parkinson's disease, rather than having both Parkinson's and Alzheimer's. It is not considered a hereditary disease, although a genetic link has been identified in a small number of families.
Stressed Out
In many ways, stress represents one of the few permanent components of life. At just about every point in our journey, a stressor – whether positive or negative – will arise. For older adults, the stressors that accompany middle age, like raising children and career responsibilities, are exchanged for others. Seniors may begin to worry about their health deteriorating, lack of independence, financial management, and the death or illness of close friends and relatives. All of these worries and concerns are natural. What's ultimately most important is that seniors cope with stress healthily. Not doing so can lead to trouble down the road.
Finding ways to relieve stress: There is ample evidence that stress can make symptoms worse. However, they usually return to normal levels once the cause of stress is removed. Activities that can help reduce stress include meditation, yoga, deep breathing, getting outside, spending time with loved ones, participating in hobbies or physical activity approved by a physician.
If you're not convinced that stress is a major factor, keep reading. If you're already convinced, look at the stress relief techniques below.
Several studies have shown that stress is linked to a number of mental and physical problems, from anxiety and depression to hypertension and immune system complications. In fact, it's estimated that stress increases the risk of heart disease by 40%, heart attack by 25%, and stroke by 50%. Not to mention the fact that stress can also exacerbate existing conditions – which is the last thing seniors need when their immune systems are already less efficient. There's no denying the negative effects of stress, but what can seniors do to manage their stress in a positive way?
Stress management is a major component in helping people cope with the disease, so take a deep breath and read on for stress relief techniques for seniors living with Parkinson's Disease.
Stress Relief Techniques
Meditate at the same time every day or whenever feelings of stress or anxiety arise
Practice deep breathing and mindfulness exercises
Reach out to friends and family to connect and spend time together
Follow a consistent exercise regimen and healthy diet, upon physician approval
Journal or jot down thoughts and feelings at the end of each day – and be sure to take a moment to reflect on all the positive things that happened throughout the day
Volunteer time in the community or neighborhood
Put together and execute a to-do list to increase productivity, decrease feelings of restlessness, and combat procrastination
Join a yoga class or practice it at home (with physician approval)
Listen to soothing or relaxing music, especially before bed
Find a way to laugh, whether it's by watching a funny TV show/movie or listening to a comedy album
Take a trip out of town in order to take a break and recharge
Animal Therapy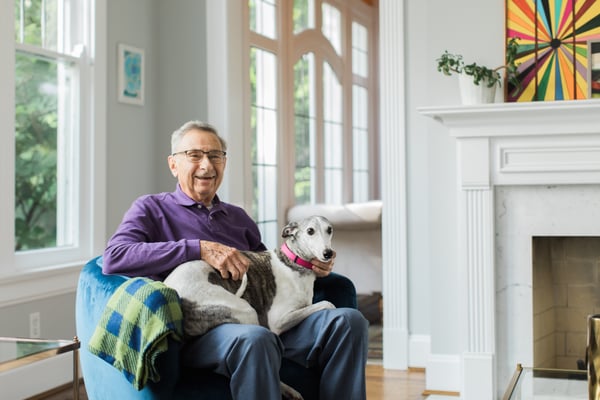 Although it may be more of a challenge than some people are up to, getting a dog or cat can actually help people deal with the stress of Parkinson's. Taking care of an animal can help you forget about your own issues, help you get more exercise and have something positive to look forward to. Before taking this step, be sure you have thought the process through about the commitment it takes to own a pet. Consider going to a shelter and finding a compatible pet that doesn't need to be housebroken. Ask a friend or relative if they would help you if you were traveling or needed occasional assistance.
Pet ownership not for you? There are many volunteer organizations with animal therapy programs like Therapy Dogs International that will make in-home visits to individuals.
Self Care for Parkinson's disease
Other self-care management strategies include: Following a proper diet in tune with controlling Parkinson's; being prepared for emergencies and have a safety plan; Perform home modification to provide a better living space; Support Groups; and hobbies.
Keep an eye on our blog for additional information on self-care strategies related to Parkinson's disease.
References
Mayo Clinic. "Parkinson's Disease." Web. 2018.
American Parkinson Disease Association. "Living with Parkinson's Disease." Web.
WebMD. "Parkinson's Disease Guide: Living & Managing." Web.
Parkinson's Foundation. "Statistics." Web. 2016.
Healthline. "16 Simple Ways to Relieve Stress and Anxiety." Web. 2018.
Huffington Post. "10 Health Benefits of Relaxation" by Sarah Klein. Web. 2014.
American Institute of Stress. "Stress is Killing You" Infographic, originally created by MastersDegreeOnline.org.
Web. 2018.
WebMD. "10 Relaxation Techniques That Zap Stress Fast." Web. 2018.