A new regime comes to lead the Minnesota Vikings into the 2022 season. The home opener will be going up against our biggest rivals and divisional foe the Green Bay Packers on September 11th at 3:25 PM. The new regime is headed by General Manager Kwesi Adofo-Mensah along with new Head Coach Kevin O'Connell. There are single-game Vikings tickets still available if you want to go!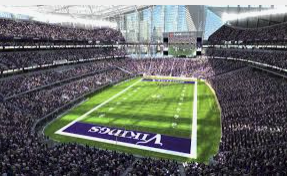 The Bank (US Bank Stadium)
Vikings games are almost always sold out which makes it an excellent idea to have a plan before taking a senior friend or family member to the game. While the stadium has extremely wide concourses, they still become very crowded--but luckily at predictable times. Visitors with disabilities may find it easier to time their travel around the ebb and flow of the crowd. Typically the crowd arrives late to their seats as they spend extra time in the concourse areas around the food concessions. If possible, avoid the rush before the game, at halftime, and at the end of the game, by leaving earlier or later, making maneuvering easier.
Complimentary wheelchair escorts are available at any entry point. This season guests still can request an escort by locating the nearest Guest Experience Representative. Just like any organization, the Vikings may be encountering difficulty in filling these positions, so arrive early! The service is available to and from the entry gates and seating areas. Please be aware that the Vikings staff and stadium wheelchair will not remain with you during the event. If you require additional assistance or would like to reserve a wheelchair in advance contact their mobility team by calling 612-777-8761 or by email at moblityservices@usbankstadium.com U.S. Bank Stadium has wheelchair/limited mobility and companion seating with enhanced sightlines on all levels. Electrical outlets are available in ADA areas to recharge scooters and electric wheelchairs.
Seating for Seniors at the Vikings Game
Public elevators are located throughout U.S. Bank Stadium and may be accessed on the Main Concourse. Priority for use of the elevators is given to guests with disabilities. All the restrooms are handicap accessible including the Family restrooms. For more ADA information click here.
Public Transportation
Served by both the green and blue line light rail system and multiple bus routes, US Bank Stadium is easily accessible by public transit. A specifically dedicated accessible Pick-Up/Drop-Off zone is available during events at U.S. Bank Stadium. For Minnesota Vikings Games and other major events, the designated accessible Pick-Up/ Drop-Off zone is located on 10th Avenue South, between 6th Street South and 7th Street South.
Visit MetroTransit to plan your public transportation via Bus, Light Rail, or NorthStar Commuter Rail. Want personal help planning your transit trip? Call Metro Transit at 612-373-3333. We have also put together more extensive information for seniors getting from place to place on this blog.
Food
There is a variety of foods available at The Bank. Everything from your traditional hot dogs (skol dog) and burgers to Market BBQ and Revival Chicken. Many of the stadium venues are from local restaurants and put their best foot forward for the Vikings faithful.
Aramark continues to curate the food experience at US Bank stadium. Everything from hamburgers, hot dogs, pretzels, brownies, brisket sandwiches, and all the way to cookie dough they have great vendors throughout the facility. Keep in mind the people serving you in these locations are generally volunteers working for a specific charity–help if you feel so moved!
Special Seating Areas
For Vikings games, there is a large variety of seating areas available. Most of them are very accessible for visitors with disabilities. For any additional questions, please call Guest Services Hotline at 612-777-8777 or Mobility Services Hotline at 612-777-8761. The cost for certain seating venues can be quite high but can easily accommodate special needs. Suites include the Turf Club; Norseman and Touchdown suites to name a few. Some are available for single games. There are also numerous clubs in the stadium including the Truss Bar, Delta Sky Club, and Lodge Bar. Some of the clubs have excellent views of the game while others have the game on the big screen and other amenities that make the experience unique. Like access to seeing the players as they enter and leave the field. While the special seating is very nice, most of us view the game from the stands.
Fun Activities at The Bank
US Bank stadium is available for a number of tours which restarted on August 12th. You can schedule private tours or attend public tours that give you behind-the-scenes access to the stadium. There are also educational tours for grades K-12.
Vikings Voyage
The Vikings Voyage is an interactive activity fans can enjoy at the stadium on game days. Try hitting the pads from a three-point stance, running for speed, and compare their times to football greats, or see how nimble your feet can be in the tire drill.
All-inclusive beer, wine, and non-alcoholic beverages

All-you-can-eat buffet

Exclusive and upscale space with interactive games

Open 2 hours prior to kick-off and closes at kick-off

Private restrooms
There is plenty of room for seniors to accompany the crowd that still thinks they can play in the NFL! You can do this while learning about the team's proud history. We just need that championship!
Archaeologists in the year 2222
(Idea borrowed from an old book by Jim Klobuchar)
Duster--" What did you find there?"
Digger--" More artifacts from that hungry band of faithful that were searching for a bowl. They were still hungry and searching for their supper bowl 200 years ago. Now it appears the old leaders are gone and there are new ones leading the way."
Duster--" You mean the mighty Zim is gone?"
Digger--"Yes but so are the masks they wore to disguise their identity, maybe the enemy detected who they were even with the masks–masks never work for long."
Duster--" Who is leading them?"
Digger--" Well if this is correct someone named Zygi, what kind of a name is that for a leader? He brought on some new leaders with no experience."
Duster--" It seems like a tough time for this civilization--anything else?".
Digger--" Things seem to be getting much foggier now in their chasing of the big bowl."
Duster--" Yes, let's keep digging."
Digger--"I was just thinking when it seems bad, all you can do is keep working!"
Is This the Year?
Many of the inside experts of the NFL are picking the Vikings to make the playoffs winning 9 or 10 games this season. They have spent a lot of effort revamping the defense hiring Ed Donatell who was last with Denver and will be installing a 3-4 defense. Donatell has already said that Harrison Smith and Dave Tomlinson, both veteran defenders, are a "coaches dream" and will make his job much better. Rumors are also out there, at the time this was written, that Ndamukong Suh, formerly of Tampa Bay and Detroit might join the team from free agency. Suh will add toughness, if not nastiness to the defense which would help this group improve over last year.
Offensively the team did very well last year until they needed to perform at the end of the 4th quarter or when it was time to put people away. Much of that blame falls on Kirk Cousins but there is a fairly large contingent of experts and fans that felt the play calling and Offensive line play was also terrible. Considering new head coach Kevin O"Connell is an offensive-minded coach the team may be more unpredictable and not rely quite as much on Dalvin Cook. With the likes of Wide Reciever Justin Jefferson and returning Tight End Irv Smith Jr., the team has an impressive array of talent. Their weak spot has been upfront on the line for several years and they have spent heavily in this department with little to show for it. (Unless you like Kirk Cousins running for his life as showing something for it.) New Offensive Coordinator Wes Phillips will have his work cut out for him retooling this line into a group that can stand up to the best defensive lines in the NFL if they are going to move into the playoffs. Center Garrett Bradbury has two other players competing for the position he held last season. He was rated one of the worst pass protection centers in the NFL and has a lot of work to do on his performance to stabilize the cent of the line.
I'm hoping this will be a very competitive and fun team to watch. Setting a reasonable expectation for the new coaching and GM to put this together would be a good idea. If things go well they will gel as the season goes on, learn the new schemes, and be competitive at the end of the season. Let's keep our Viking fingers crossed!