Continuing the national craze that designates a month for everything we do. Better breakfast month is in September. This is a craze that seniors should get behind as breakfast is considered the most beneficial meal of the day--and for many the most delicious!
Why Breakfast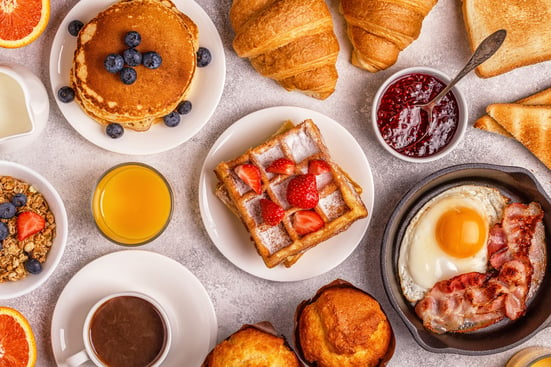 Breakfast is often called 'the most important meal of the day, and for good reason. As the name suggests, breakfast breaks the overnight fasting period. It replenishes your supply of glucose to boost your energy levels and alertness, while also providing other essential nutrients required for good health. This gives your body a boost of energy at the right time of the day and ends the overnight fasting period. Overall this is thought to increase your metabolism and start burning more energy and help you with better weight management.
Despite the benefits of breakfast for your health and wellbeing, many people often skip it, for a variety of reasons. If the reason is time, there are a lot of things you can do to get the day off with breakfast quickly. If the reason is health–that doesn't seem to hold water.
Why Breakfast is Important to your health
People who eat breakfast generally have more healthy diets overall, have better eating habits, and are less likely to be hungry for snacks during the day than people who skip breakfast.
Those most likely to skip breakfast are older females, and people who:
are under or overweight
have a poor diet
have lower physical activity levels
do not get enough sleep
are from single-parent or lower-income households.
A study indicated that men who skipped breakfast were over 25% more likely to suffer from coronary heart disease than those that had breakfast. Epidemiological studies have demonstrated a higher prevalence and incidence of cardiometabolic risk factors such as obesity, high blood pressure, unfavorable lipid profiles, diabetes, and metabolic syndrome in people who skip breakfast, which may ultimately contribute to an increased risk of heart disease. So for starters to fix this--just start eating breakfast!
National Breakfast Month Ideas

Some great local breakfast places!
When it comes to breakfast many of us have our favorite places. Here are a few of the Comfort Keepers staff's favorite places around the area we serve.
Oak Roads Bar and Grill in Cedar
Sam says they serve fantastic breakfast all day with easy handicap access. Everything tastes homemade and Oak Roads is wonderfully rustic!
American Bistro in Anoka
Tom says you can't get a better scone than American Bistro. The owner is one of the best bakers I've come across in a long time. Scones sell fast so get there early!
Carol's of Blaine
Carol's is a favorite of Kathleen's. It's a cute family-owned place with home cooking and a cute little boutique inside! "Their cinnamon French toast is my favorite" at Carol's in Blaine.
Old Main of Elk River
Old Main in Elk River MN. Jeanne loves this place because they have homemade breakfast, pastries, and pies. The wait staff has been there for a long time and are very friendly.
Nicoll's Cafe in Pine City
Diana loves Nicoll's Cafe in Pine City for their all you can eat pancakes for $7.95 and friendly staff. Get there early because they fill up fast!
Take a food nutrition course
Whether you prefer online learning or attending classes in person, there's a strong chance you'll be able to find an interesting course that will teach you how to prepare healthy and delicious breakfast dishes. What a perfect way to kick off Better Breakfast Month!
Treat yourself to breakfast out
Many restaurants offer light, nutritious breakfast options including senior-sized portions. So, while passing on the chocolate chip pancakes and cream cheese stuffed French toast may require a little willpower, we're confident you'll still be able to find an option that will satisfy nearly any craving — and will get your day off to a great start.
Create a meal plan
Eating a nutritious breakfast doesn't just happen by accident. For at least one week during Better Breakfast Month, make it a point to plan them out in advance. Knowing what nutritious foods you will be eating throughout the week will help to eliminate any secret sugar-packed breakfast splurges.
Find a quick nutritious meal for when you are on the run
A product like Three Bridges spinach and egg bites can check a lot of the boxes for a quick meal
High Protein!
Low Sugar
Low Carbs
Gluten-Free
Keto-Friendly
Cooks in 90 seconds
rbST-Free* Cheeses
Single Serve Tray
Includes 2 Egg Bites per serving
You can also stock up on things like wheat bagels, yogurt or just plain eggs. It's not hard to start the day with a quick breakfast even if you're on the run--it just takes a little planning.
Whether you get breakfast daily on your own at home or you head out to a restaurant with friends, get out there and eat a healthy breakfast during this month and make it stick as a new good habit!


Acknowledgments
Better Health Channel
National Institute on Health
Comfort Keepers