The Christmas holidays are here and it's a great time to hang out with your favorite seniors, family, and friends! We've looked into a few of our old standby events and added a couple of new ones to kick off the 2022 holidays.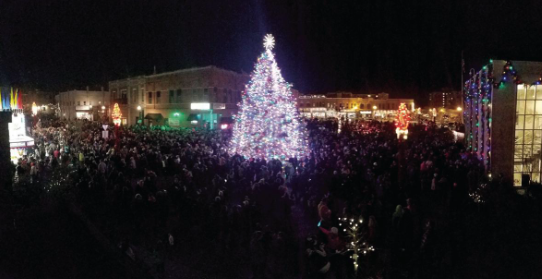 St. Paul
European Christmas Market
Once again St. Paul will be having their European Christmas market. The first market in St. Paul was in 2014 and it has continued to thrive as the years go on. The market opens up on November 25th and continues on weekends through December 18th. There are 20 new vendors this year to enjoy. This is a free event that features many of the same goods you would find at an actual European Christman market! On a cold day, you can head inside a tent to enjoy hot chocolate and food selections from a variety of local restaurants. There are a lot of European foods to enjoy at the market for both gratifying immediate consumption and to bring home to chow on later. This is also a place to find those unique gifts that make the holidays fun. These vendors have beautiful products from Europe including
Christmas ornaments

nutcrackers

beeswax candles

decorative glass

wool mittens and scarves

Jewelry

Dog Treats

Hand-crafted goods and more
Because this is an outdoor event be sure to wear warm clothing and make sure seniors have appropriate footwear. The event is held at the Union Depot which is currently the Amtrak Union Depot is rich in history allowing you to relive the days when railroad travel was the dominant form of transportation. Stroll along looking at the artwork and beautiful wood throughout. There were no loudspeakers in these buildings when they were built, so try yelling out "Casey Jones is now arriving on track 11" and notice how everyone in the building hears you. Now that's great acoustics! Parking is ample around the area both free and paid.
Minneapolis
Northrup King Building
Holiday Saturdays are back at the Northrup King Building! Browse hundreds of unique and creative works from local artists and creators every Saturday during the months of November and December. Take care of all your holiday gift needs under one roof and rest easy with the knowledge that when you buy locally, you never have to worry about shipping delays! It's a great year to support Minnesota artists and creative businesses!
Open every Saturday from noon to 4 pm in November and December, through December 17th. Special additional hours for Small Business Saturday on November 26th, December 3rd, and December 10th! Check this out for a list of studios.
The Northrup King Building is located at 1500 Jackson Street NE, Minneapolis, MN, The building is over 100 years old and is actually multiple buildings tied together. There are over 300 artists located in this location. You may need to look around for easy access for wheelchairs or walkers but it is available. If you get hungry there are a number of great venues in the Northeast Minneapolis area. Nearby are Young Joni, Centro, and Northeast Social to name a few.
Old Fashioned Dazzle
Hollidazzle is running again this year at Loring Park. The event will be on weekends from November 25th through the 18th of December–Friday through Sunday. Food and drink from local providers will include Sausages, homemade eggrolls, hot cider, beer, and more. There is also an eclectic mix of boutiques with handcrafted items to choose from. Fireworks each Saturday night at 7:15! The Yeti is back and it's not the one you drink out of! The Minneapolis Yeti was created with recycled materials including steel and aluminum, up-cycled mattress packing waste, pine lumber, up-cycled window screening, and more. It stands nearly 17 feet tall and weighs about 340 pounds! Now that's a YETI!
Loring Park is a beautiful area in the Twin Cities but is not the easiest to find parking. Plan your trip to Holidazzle! Mpls College is offering $5 or less flat rate parking, and Metro Transit is offering Free Ride Passes on Saturdays. Click here to learn more about Mpls College parking information or to print or download your Metro Transit Saturday Free Ride Pass. Again this is an outdoor event so wear the right clothing to enjoy your evening.
Anoka
Christmas Tree Lighting
Bring your family, friends, and holiday spirit for this fun and festive hometown event. On Saturday, December 3rd from 3:00-7:00 pm, come to Anoka and join in as all c-o-u-n-t-d-o-w-n to light up the official City Christmas Tree. It all takes place in front of Anoka City Hall Plaza-2015 2nd Avenue North–in historic downtown Anoka. If you look just slightly behind you there is one of our Comfort Keeper offices!
There will be free horse-drawn trolley rides, merry holiday music, and bonfires to keep you warm & toasty. Food and merriment will abound to bring back memories of an old-fashioned Christmas. Bring the kids and see Santa & Mrs. Claus in the Santa Shack!
Be sure to come early and enjoy dinner at one of the many downtown restaurants and do some holiday shopping at some of the most unique shops in the Twin Cities. Find out more!
Hopefully, the weather will be cooperative for us all to get out there and enjoy some of the holiday events before cabin fever closes in!