Right after Thanksgiving, there has been a long-held tradition in this country for people to start their shopping–on a day known as Black Friday.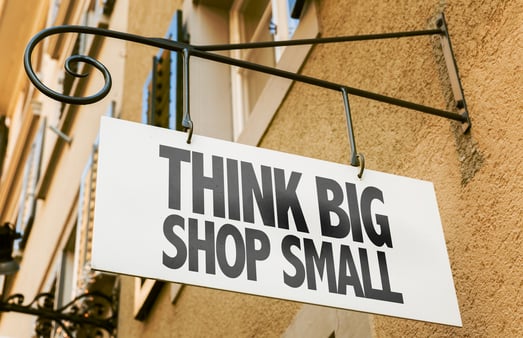 History of Black Friday
For many, Black Friday is the official start of the holiday shopping season. In years past, it's been referred to as the busiest shopping day of the year, although recent sales events like Amazon Prime Day and Way Day (Wayfair's own version of Prime Day) are starting to give it a run for its money—literally. The most commonly repeated story behind the Thanksgiving shopping-related Black Friday tradition links it to retailers. As the story goes, after an entire year of operating at a loss ("in the red") stores would supposedly earn a profit ("into the black") on the day after Thanksgiving, because holiday shoppers spent so much money on discounted merchandise. Others will tell you it revolved around US President Franklin Roosevelt and merchants pressing him to move the national Thanksgiving day up a week, moving the holiday further from Christmas and giving people more time to shop. At the time that made sense as the country was in the middle of the great depression. Today Amazon and Wayfair wage war on Black Friday with online deals on other days. Target and Best Buy offer Black Friday deals both in their stores and online–last year they started Black Friday at the beginning of November.
Seniors and Shopping on Black Friday
My mom always loved shopping. I would often take her shopping on our way home from lunch or medical appointments. I would roll her wheelchair up to a counter and she would feel the softness of a sweater or blanket and comment on the quality. If she said she liked it I would ask her if we should buy it. "No" I don't need anything she would say. Literally, she just loved to shop. Buying anything was generally selecting things for other people on her Christmas list but rarely for herself.
My sister is also a huge shopper and a big fan of Black Friday. Our mom knew my sister would be going and always wanted to tag along with her and my sister's fellow shoppers. As mom's health declined my sister recognized the trips were more difficult hustling from store to store with mom in a wheelchair. To accommodate this she would take mom shopping toward lunchtime and make lunch an integral part of the trip. For instance, get the morning shoppers together for lunch with mom so they could discuss their loot, and then take mom out in the afternoon when things had quieted down at the stores. My sister has a heart of gold and she loved being able to go with mom and her own family–-even when it greatly extended her shopping day.
What to Expect in 2023 on Black Friday
Expect the deals to start even earlier this year with Best Buy announcing their first deals will start October 24th. Discount TVs and Black Friday go together like peas and carrots, and this year is no exception. Expect choices galore, from doorbuster deals on TV models made exclusively to be sold on Black Friday to more full-featured sets. If you've been holding out for a TV with the latest technology, AARP magazine says this is the time to buy! There are other times of the year like right before the Super Bowl, that tend to see a lot of good discounts on TVs, but they never quite reach the Black Friday level, according to Nerd Wallet.
AARP magazine says that appliances may not be at extremely low prices but if you have a troublesome appliance it might be time to consider buying a new one on a Black Friday deal. The cost of maintaining old appliances is going up with inflation which can make a new appliance a more affordable option. NBC reports that the great deals on appliances won't be limited to the big stuff. Small kitchen appliances will be hot this year. Air fryers, instant pots, and smart composters can all be on the list of things to buy this Christmas!
Another small electronic device is expected to come down in cost this year–Apple iPhone 14. To get the best cost you may need to bundle it with a new service plan but the slow sales of the new iPhone 14, are pushing Apple to look for more ways to sell the phone. This could mean big savings this Black Friday season as Forbes magazine reports Apple has a glut of them on hand and coming from suppliers.
If you are taking a senior loved one out on Black Friday, have a plan, and keep in mind their current health. For most seniors seeing their family and friends is the best part of any event they get invited to. If you add in a little shopping you may have a winner of a day for the record books!

Acknowledgments
History Channel

Nerd Wallet

AARP

Forbes

NBC