We have explored other national days this year in our Comfort Keepers Blogs. Events like National Hot Dog day, Caffeine Awareness month, Chocolate Cake day, and National Senior Citizens week. To round out the year we have National Cookie Day on December 4th!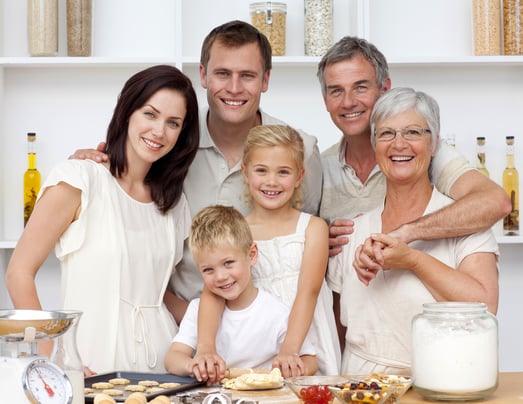 National Cookie Day is a great segway into the holiday season. This could be a wonderful day for a family to share together and create some cookies to pass out to friends and relatives throughout the upcoming holidays--or fill up your own cookie jar. Maybe you prefer your cookies to have a crunchy snap, or you'd rather bite into a soft and chewy mix of flavorful delight. No matter which you prefer you can find your favorites somewhere on National Cookie Day. Cookies seem to bring most of us happiness so why not indulge just a little more on December 4th?
These sweet treats seem to have been in America since the Mayflower arrived. The Dutch brought them here in the 1620s according to cookie research. The research showed cookies as something served after a funeral. Not quite a mardi gras celebration but they might have cheered up some of the attendees. Cookies have been around for as long as baking–about the 7th century. The sugary snacks were great for travel because they didn't spoil quickly and held up being jostled around. In fact attacking armies may have spread the idea around when they conquered new lands.
How the Cookie Crumbles
While most of us might prefer homemade cookies there are times when you have to grab something off a store shelf. When that happens the cookie most of us prefer is Oreo with over a third of Americans saying it's number 1. When it comes to our preferences on cookies we are much more opinionated and prefer chewy soft cookies to their crispier cousins–over two-thirds prefer the softer variety. Despite over half of us preferring homemade cookies few of us have actually made cookies. Only about 10% of us have actually baked a cookie.
Become that Baker!
Now that you know more about cookies it's time to join the 10% that make our cookies so delightful. Here are some ideas for cookies that you can share with family and friends. If you are cookie baking newbie you will gain an appreciation for these delightful wafers and the people that make them for us.
The tollhouse cookie was the first chocolate chip cookie and is one of the most popular cookies ever. There are many variations on the original recipe but if you want to try out a classic click here. Ruth Wakefield invented the first toll house cookie in Massachusetts. Her version has a slight crispiness to it but many subsequent types are much more chewy and soft. Ruth cut up Nestle chocolate bars in her original version. That recipe made its way to a Boston newspaper, and as its popularity grew, so did the sale of Nestle chocolate bars. Nestle began printing the recipe on the bar's wrapper, and in 1939, they started selling the chocolate bits in their own in bags, calling them "morsels."
If you're looking for a challenge try making divinity. Many have tried but few have conquered this simplistic yet exacting recipe. Once you have mastered the process try sharing and eating divinity from others. The variations in following the recipe make for a wonderful variety of outcomes. If you find one that tastes like heaven–you have arrived. If you made it yourself and can do it over and over then you are a real cookie maker!
Spritz cookies are another holiday favorite. They lend themselves to decorating and are relatively easy to make. You do need a cookie press to make them. The finished product is pretty tough so you can put these in a shipping box and send them to far-off places and they should arrive intact. Children and seniors can sit and make fun designs on the cookies–creating a culinary masterpiece.
For those of us that don't bake!
Across the northern suburbs of the Twin Cities, there are some awesome bakeries to stop and enjoy a cookie if you are not one of the 10% of cookie makers.
Crumbl Cookies recently opened in Riverdale in Coon Rapids. This a franchise and they have making cookies figured out! One thing you may want to avoid on their website is the nutritional information. One serving is one-quarter of a cookie. I have never ever eaten one-fourth of a cookie. The selection and flavors are awesome.
Krown Bakery in Anoka has a great selection of cookies. Here you will find some unusual selections including a buttery cookie that originated in France, a crispy cookie that's Vegan with hints of cardamom, and an espresso cookie for coffee lovers. Krown also has a number of goodies that are made with gluten-free ingredients.
Taste of Scandanavia in Shoreview has a large variety of cookies with many of the recipes originating in Europe. This place will knock your socks off with their variety. Taste of Scandanavia already has their holiday shopping site open if you opt to buy and not bake!
This year enjoy National Cookie day and every day with your senior loved ones!