AAA baseball returned to St. Paul again this spring with the St. Paul Saints playing at beautiful CHF field. The Saints at the time of this writing were playing respectable baseball with a record just over .500–despite some losing streaks along the way. Future Twins stars, Alex Kirilloff and Royce Lewis are still with the team as they prepare for more opportunities with the big league team. For Lewis when he moves up it will be his first time in the bigs!

The partnership has paid off this season with the Twins being able to make a couple of last-minute call ups and keep a full active roster on their lineup across town at Target field. The Saints have not changed the fun atmosphere that has made them a favorite of sports fans in the Twin Cities.


Saints Games

Sponsors have all the nights covered with special offers throughout the season. Starting with Cub Foods family Sundays, Fireworks Fridays sponsored by Excel Energy, and others like Thirsty Thursdays sponsored by Bud Light Seltzers. A Saints game includes all the things that go on between innings as well as before and after the game. Mike Veeck leads an organization that believes you need a fun atmosphere to thrive at work Veeck believes in fun workplaces he wrote a book called Fun is Good. Another notable co-owner of the team is Bill Murray. Bill enjoys the fun of baseball and has made some notable contributions to the Saints.

CHS Field

The Saint Paul Saints play in the Lowertown area of St. Paul and have a beautiful stadium for an outstanding fan experience. CHS Field is a 7,210-seat ballpark that has been the most heavily attended in all of professional baseball since 2015. Get your tickets early the Saints have been over 100% capacity for 15 seasons, including each year at CHS Field where they've averaged 112%. A lot of people choose to sit on that outfield grass as if you're at a sandlot game. Like Target Field it was built with accessibility in mind so everyone can enjoy the game.



Accessibility highlights from the Saints Stadium




Fully accessible and fan-friendly
Multiple ADA accessible entrances provide entry to the 360-degree concourse
At grade entry from downtown to concourse seating
4 spectator elevators
200 semi-ambulant seats, back row at concourse level
140 wheelchair and companion seats distributed among every seating type and area
Removable armrests on selected aisles
10 public, single-occupant restrooms
100% accessible concession counters & ticket windows
Way-finding signage identifying accessible routes
Color contrasting directional signage and braille for fans with vision disabilities

Seating

To purchase tickets for handicapped seating It might be best to call the ticket department at 651-644-6659 for assistance to find the best seats available. The drink rail seating, for instance, is easy to access for seniors but they have handicapped accessible seating throughout the ballpark that may better fit your needs. Talk to a ticket advisor to pick the best for your comfort.

Transportation

CHS Field is served by the Green Line light rail system and drops fans off at Union Depot Station which is less than a half-mile from the field. There are level sidewalks along the way. On game days you may be able to catch a ride on Twin Town Pedicabs or book a ride with them in advance. The Pedicabs provide shuttle service pre & post-game to the Tailgate Lot, Green Line, & Lowertown Ramp. There are also many ways to arrive by car or bus.

Great Food Abounds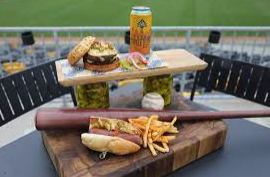 CHS Field has some exciting vendors like Muds Barbecue, Fries and Pies, and the Dog Park, to name a few and should prevent you from going hungry. There is also an official tailgating lot about a block from the stadium between Kellogg and Prince Streets. The lot has 500 parking spaces. Beware the Saints have a note on their website that many nearby lots only take cash–better to be prepared! In the left-field corner is Craft Brew Corner with many local breweries represented. Let no thirst go unquenched!

Don't forget the Pooch! Chuck and Don's Dog Park

The Lowertown Dog Park is a very important feature of the ballpark site that the community advocated for very strongly. It features a dog-only drinking fountain, lots of space for Fido to run, a central area for dog owners to gather, and will be open during typical park hours from sunrise to sunset. Chuck & Don's Dog Park is 17,585 square feet and is handicap accessible. Keep an eye out, the Saints have had dog-friendly games in the past too.

If You're Into the Game

Toby Gardenhire returns as the Saints skipper for another season. Gardenhire, the 39-year-old son of longtime former Twins manager Ron Gardenhire, guided the Saints to a 67-63 record last season in his first season at the Triple-A level. Gardenhire does tend to see the end of most of the games he manages, but other than that, he seems to have his dad's winning ways. As the Twins send players back and forth from the majors for rehabilitation or just honing some skills it should prove to be an interesting season to see some good players at CHS.

Get out there with your favorite senior this summer and enjoy some fun baseball, entertainment, and food at the Saints games!