The COVID locked-down world is starting to ease up and getting out and enjoying family time in public is coming back.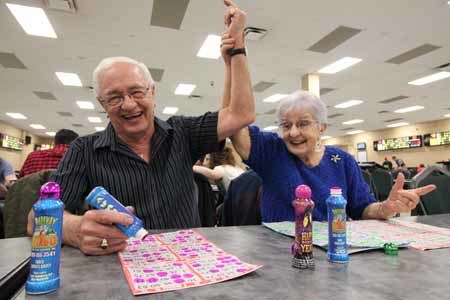 Bingo
Bingo is a long-time favorite for families to get together and play while they converse. The game is relatively inexpensive and you can actually win a few dollars if you're lucky. If you're not a bingo player, but it sounds fun, here is bingo lingo you may want to know courtesy of the Roseville Bingo Hall. The Roseville Bingo Hall is one of the largest in the state and has several games you can play, priced in a variety of ways. It's open daily, except Christmas, and the facility caters to seniors and families. Bingo is an event you can find at all sorts of venues across the metro. Call ahead if you have special considerations for handicap access. If a more laid-back bingo environment is more your style, the MN Bar Bingo site provides information on local bingo events held and bars and restaurants around the state. You can search by day and type of bingo to find a game near you!
Trivia Games
Trivia exploded across the country prior to the lockdowns of the pandemic. Companies like Trivia Mafia put together special packages for bars and craft brews to offer to their patrons. While other venues put together their own trivia games to play. The concept is pretty simple but there are many varieties of how the game is played. Some of the best teams are a combination of people with more life experience and their children and grandchildren. In other words, it's great to bring along someone that likes history or lived through a bunch of it! No matter who puts together the questions, getting together is always fun. You can often find trivia at craft breweries with family, and often dog-friendly appeal.
Music
A variety of venues are now starting to provide music again across the Twin Cities. If you are looking for a good venue, with music from the past, you should try Crooners in Fridley. The establishment upgraded its air handling systems and safety measures to provide a safer environment meeting the governor's COVID requirements for indoor venues.
The supper club is spacious and provides an excellent space to enjoy the entertainers. The performers come from around the area and the country to perform for their audiences in this beautiful setting. The musical style varies nightly from big band sounds, jazz, rock, and more. The music generally goes back to the days when supper clubs were popular around the country. In those days people could enjoy entertainers traveling through their area at a local roadhouse. Now Crooner's is the venue where you can bring out your favorite musically inclined seniors. There is also the Dunsmore Jazz Room in case you aren't looking for a big meal. You can order from their menu, have drinks, or simply just enjoy the music for the cost of a ticket in the Duns. Music changes nightly to give you a wide variety of things to enjoy with family in either venue. An outdoor area for music will be opening this year as well, called the Belvedere. it will significantly expand both seating and musical options at Crooners.
The food is excellent and the facility is built to handle people that have some issues with mobility. The tables are set apart far enough to handle wheelchairs and walkers. Once you are in your seat you will have a great view of the stage and the staff will cater to your needs. If you do need to get up often, talk to the staff as they try to provide as few disturbances as possible during the show.
We love having more opportunities to spend time with family as our society starts to open up following a tough year of isolation. Get out and get your game on!
Resources: