It's Summer in the Twin Cities and there has already been a Minnesota State Fair trial run--the real thing is coming soon! As we ramp up to enjoy what appears to be a more normal summer--let's get out there with our entire family and enjoy the fun!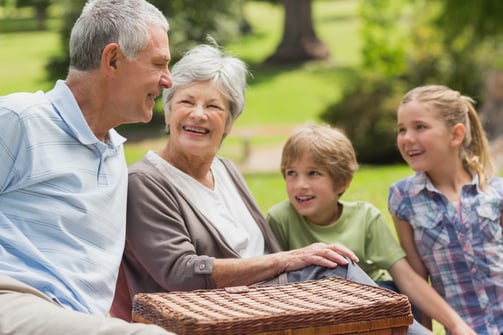 Picnic
Planning a picnic with seniors can be great fun. It can bring back fond memories of family get-togethers in the past. Many seniors have mobility issues so picking the location can really improve the event. For example, if a senior uses a walking cane, but is still steady enough on their feet, a park with a grassy field can work perfectly. However, if a senior is wheelchair-bound, it would be best to look for a location with paved paths or walkways. Another consideration is the sun. Look around and see if there is adequate shade nearby to get out of the hot sun. Bathrooms or Porta-Potties that support wheelchair or handicap use are good to locate as well.
Food can be a wonderful way to enjoy an afternoon picnic together. Ask the senior guests for their suggestions so they can be involved in the planning. This can add a sense of accomplishment to an already exciting day! It doesn't have to be a big feast, sandwiches, and chips might be all you need. One other thing to consider is dietary restrictions to make sure everyone has something enjoyable to eat. Paper plates, napkins, and cups can keep the cleanup simple and keep the party going longer.
Keep the games simple too! A deck of cards and a game board can go a long way on a warm sunny day. By setting things up to be simple and fun you can keep the stress out of the day and simply enjoy each other more.
Swimming Pool
Getting in a swimming pool can be an excellent way to spend time with a senior. Swimming and water aerobics help you beat the heat while also staying fit. Water-based summer activities for seniors are usually low-impact and great for individuals with arthritis or stiff joints. Other low-impact exercises include yoga or balloon volleyball. The added buoyancy from the water helps a senior stay engaged in the activity longer while building up endurance. During the summer heat, seniors can still stay cool by moving away from the action while staying in the pool. Be sure to wear your sunscreen!
Exiting the water can sometimes be a little more difficult. Be sure to help seniors as they reacclimate to their earth-bound weight by walking with them and supporting them if necessary. Get their walker or wheelchair ready in advance of them getting out of the pool. When they know these things are being done for them it will keep their anxiety down and help everyone have a great time.
Ice Cream Social
Have you ever been to an old-fashioned ice cream social? Chances are your senior friend has been to one and has fond memories. In today's hectic world we might not have the time, or the equipment, to make our ice cream. To make it easier ask everyone that you invite to bring their favorite flavor! If you're looking for ideas most ice cream stores will sell you a tub of ice cream so you can be one of the stars of the show. Speaking of ice cream—Explore Minnesota has there own ice cream social. Try a bunch of flavors and bring the best to your extravaganza. Ask people to bring the items for ice cream sundaes, root beer floats, or banana splits. Displaying all your toppings in Mason jars can add that extra vintage look and a whole lot of flavor at the same time.
chopped almonds

chopped peanuts

maraschino cherries

whipped cream

crushed cookies

diced strawberries

toasted coconut

chopped candy bars

graham cracker crumbs

marshmallows

mini chocolate chips

mini M&M's

white chocolate chips

chocolate sprinkles

rainbow sprinkles

gummy bears

mini peanut butter cups

Andes creme de menthe chips

wet nuts (it's a thing and it's delicious)

toffee bits

cereal
Some other things to consider. Ask everyone to bring some vintage items. An old box, sign, or another thing that might help pick up the theme of an old-fashioned ice cream social. This is an instant party and it should bring about some great conversation for all to enjoy. For some additional ideas check out Lora's list on Pinterest.
Fishing
Another senior-friendly option might be to go fishing! There are several ways to enjoy fishing without having to struggle into that old fishing boat--which can be a challenge for some seniors. Pontoons are generally a much better option with the ability to step straight off the dock onto a flat surface. If you aren't fortunate enough to have a friend or family member with a pontoon you can rent them at several metro locations.
Fishing from shore can also be a good choice for seniors with mobility issues. We found this vintage shoreline guide from 1992. According to the guide, few metro areas in the country have as much wheelchair access to good fishing as the Twin Cities. Fishing piers paved paths, and lots of water give anglers with any type of disability plenty of opportunities to go fishing. Each of the 23 lakes and rivers listed in this guide is rated on the following scale for people with physical disabilities:
Excellent-Wheelchairs have complete and easy access to the water's edge. A fishing pier or deck is available.

Fair-Hard, level grass or dirt bank leading to the water's edge. Depending on their ability, some wheelchair users may require help to get to the water.

Poor-Steep or uneven shoreline is difficult to traverse in wheelchairs.
Remember this is a 1992 guide so the pricing and rules of fishing may have changed! For instance, in 1992 the cost of the fishing license was about half of 2021.
We only get one summer in Minnesota! Now is the time to get out there and enjoy it with your favorite seniors!