Does getting out and doing some summer camping appeal to your favorite senior? Many local campgrounds in the Twin Cities offer camping near the metro, safe trails, and accessibility for seniors. Take some time to consider options to help a senior get back to camping or try it for the first time! If you want a similar experience to camping you might want to consider a campground with cabins.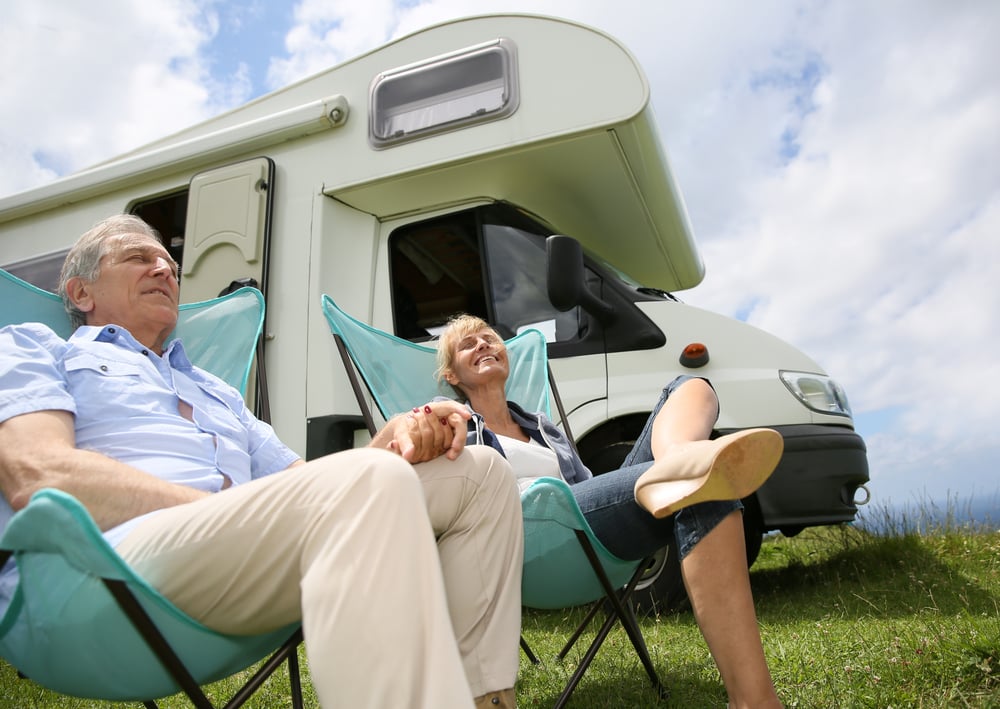 No Camper RV or Tent–No Problem
RV and Camper Rental
There are a wide variety of options when it comes to renting an RV or camper. Some people rent them privately, often through a network like Outdoorsy. They have campers, motor homes, and vans on this site from private parties and handle the communications with the owner. You can check on availability dates, and general information about the unit you would be renting. This is like Air B&B for camping–except you still need the campground! I'll give you the "dirt" on that later! Local companies also rent their own campers and RVs from their own inventory. If you have someone going along on the trip with mobility issues you will want to check out the RV in advance. Handrails, wide steps, and a small distance to the ground are especially helpful to seniors with walking issues. If you're planning on using the bathroom in the RV be sure to check out accessibility in there as well. Many provide grab bars to help you get up and down easier in what is often a cramped space.
Tenting
While tenting might seem like the least likely way for a senior to want to camp it may actually be a good choice. Tents are set up on the ground which makes it easier to get in and out. Tents are much less expensive so buying them isn't as cost-prohibitive–perhaps less than a couple of days of RV rental. In general, seniors prefer taller tents that allow you to stand up fully inside and not have to crouch over. Sleeping on the ground can be another issue that taller tents can help you eliminate. A cot placed inside a tall tent allows you to sleep off the ground. This cot by Redcamp is heavy-duty and sits up 15" off the ground. The higher cot makes it much easier to stand up after a long night's sleep! For more ideas on senior tenting check out this blog.

Pick Out a More Senior-Friendly Campground
With camping never having been more popular than it is today, you'll want to look around and find locations and facilities that suit you. Things that may be important:
Does it have activities for the grandkids–you love them but keep them entertained
Paved or flat trails–gets you out for a walk
WIFI–You can still watch your favorite shows
ADA Toilets and Showers–No need to comment on this
Electricity–Make sure that CPAP works or everyone might be crabby the next day
Whether you're looking to really rough it or prefer something more luxurious there is a campground for you. In fact, there are even some campgrounds or RV parks that are "restricted to Age 55 and Over". It's a good idea to call the campground you are interested in and talk about important things to you. This might include social activities or requesting a quieter area of the campground.
The Dyrt
The Dyrt is like Air B&B or VRBO for camping–now you can dig up the dirt on the campground! This site was created by two former Minnesotans, Sarah Smith, and Kevin Long. They found very few online resources to look for camping spots. They also noticed that many campgrounds still don't have websites. The Dyrt is an excellent resource to quickly look for the things that may be critical in your selection criteria for a campground. For instance, if you need to know if the campground has wifi, allows horses, dogs, and pets, or is ADA you can filter for the campgrounds that meet your needs. It's fast and quickly gives you results that are pretty difficult to find without the site. They also have a 5-star app called Dyrt Pro for $36 per year. It helps you plan trips, reduces your costs for booking fees, and has discounts negotiated with owners. The app or the site will save you time in finding locations. The most useful feature by far is the wide variety of reviews you can get on the site. Dyrt has its own people now going out and reviewing campgrounds and taking photos. While this is nice, the Dyrt community has already provided millions of photos and many thousands of reviews.
Bunker Hills Park Campground
In the heart of Anoka County, you can camp and feel like you are away from the hubbub of the rest of the city. Some might choose this park as a good place to test your camping preparedness before venturing further afield. This close-by county park is beautiful and features a golf course, a restaurant, disc golf, a huge waterpark, a stable, and multiple paved trails. The campground sites are mostly dirt with some gravel sites that allow pull-through trailers. They have cabins available for rent. The trails are a good walking surface for stability. Be mindful, the park came by it's name honestly–the hills can be challenging but mostly just rolling. The camping area is generally level and isn't difficult to maneuver around.
Example of park features for Bunker Hills provided by Dyrt.
Bunker Hills may just check all of your boxes for a great campground in the Twin Cities.
Baker Park Reserve
Located on Lake Independence, Baker Park Reserve offers diverse outdoor activities in natural surroundings as part of the Three Rivers Park System. Grandkids can explore a creative play area, picnic, swim, walk, or bicycle on paved trails that wind through meadows and forests.
203 sites, including 98 with electricity close to the lake. Showers and flush toilets that are ADA accessible. Baker Park also has cabins available to rent at the campground. Similar to Bunker Hills this park has a wide variety of activities for seniors and families to enjoy and is just 22 miles from Minneapolis.
Camping grew in popularity as we suffered through the pandemic. Camping has always been a favorite for seniors who enjoy this form of travel and relaxation. Relaxing by a fire, perhaps some scary stories, and putting together some great memories. Whether it's your first camping trip or a new experience take an opportunity this summer to give it a try with your favorite senior!