This may be the year for seniors to find things to do in and near home rather than risk increased exposure to COVID by traveling away from Minnesota and family. Seniors that like to travel generally feel the need, even more, when the weather starts to close in. What things can they do to feel like they are still getting away from it all?
Virtual Trips to the Rescue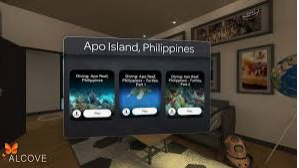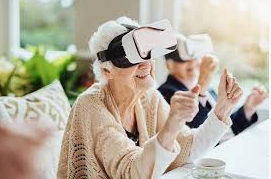 AARP (American Association of Retired People) has been working with a company called Rendever from Boston Massachusetts. The company is a startup that is bringing virtual reality to the senior market. The technology uses virtual reality headsets from Oculus along with software developed in conjunction with AARP Labs and Rendever. This was an important project to AARP even before COVID as studies show that prolonged isolation can be the health equivalent to smoking 15 cigarettes a day and can exacerbate existing health problems, such as lung disease, heart disease, and diabetes. As we may be facing prolonged isolation this winter, the opportunity to stay together through technology is perhaps better than ever.
Through Oculus Quest's all-in-one system, Alcove users can engage in hundreds of different activities nearly anywhere, standing or sitting down, with just a VR headset.
Among Alcove's features, users can:
Invite friends and family: Bring loved ones into a shared virtual space, regardless of their location, to connect, play, and explore new worlds together.
Offer guests fully guided, controller-free experiences in VR: With the Lead / Follow feature, guests can put their controllers aside and let friends or family members show them new sights and explore new places around the world.
Relive family memories: Upload photos and videos, create and manage photo albums and collections, and choose how and where they show up on the walls of the Alcove home environment.
Play classic games: Checkers, chess, cognitive games, and more, with the ability to play against the computer or a family member.
Practice meditation: Guided or unguided three-dimensional breathing meditations can be practiced in remote nature locations like rainforests or beaches.
Travel the world: Dive in the Great Barrier Reef of Australia, ride in a hot air balloon over a Kenyan safari, road trip across the U.S. in a convertible, or take a virtual walkthrough of hundreds of major cities and destinations on any continent.
Although there is a moderate cost to the Oculus Quest headsets, $300-$400 it's not much when you consider the average senior spends about $12,000 per year on travel. The system works through wireless internet. Alcove enabled hand tracking as an alternative to operating the controllers to interact with the environment and enabled multiplayer for joint 360° experiences. You can enter 360° experiences together with your family and friends while maintaining full voice communication with each other. A personal favorite of many seniors, a built-in "Lead / Follow" feature can be engaged for yourself or your guests. For example, think of your cousin who's never been in VR before. With Alcove, all she needs to do is put on her headset, and from there you can set her in Follow mode, and give her not only a full tour of the Alcove environment, without her having to touch one button, but you also can pop in and out of a variety of experiences together, like a virtual trip around the world. This may be a great way for a family member that is tech-savvy to engage with a grandparent. The virtual experience is so realistic things really do come alive.
Grand Pad
Technology is playing a key role in social engagement for everyone--except for most seniors. Even tablets that seem easy to use in comparison to a personal computer often are confounding to the senior crowd. GrandPad was created for seniors from the ground up. All it takes is one dedicated family member to work with the GrandPad support team to set up what is the equivalent of a private family network. After setup, GrandPad has its own support system built into the device to help seniors through any issues--reducing the amount of time family members spend troubleshooting.
One of the greatest benefits of GrandPad is the safety of the system. There are many apps on GrandPad but they are all within a safe network that protects seniors from scams or hurtful messaging from the outside world. It's controllable by the dedicated family member who determines what content is appropriate for their loved one.
According to GrandPad, with a relatively inexpensive monthly subscription, you'll receive a one-of-a-kind tablet, along with senior-friendly accessories designed to make the device comfortable and ergonomic. The smart case protects the tablet while remaining soft to the touch. The charging cradle eliminates the hassle of wires from the charging process. The durable stylus makes interacting with the tablet a breeze. All of the user's preferences and contacts come preloaded in the tablet so it's ready-to-use right out of the box. It also works on its own cellular network so you don't need wifi. It also comes with a 30-day risk-free guarantee.
Local Favorites
Perhaps technology isn't in the cards for this year. If things don't get locked down here at home, maybe this standby would be enjoyable.
The Como Park Zoo and Conservatory have been open for over 100 years. Both are open year-round with indoor viewing areas for the Zoo. The conservatory is a wonderful spot during the winter to forget about the confines of your home and enjoy the warm, humid air inside the buildings. The same heat we may want to avoid in the summer feels great when it's cold outside! With it's wide variety of gardens that include a Minnesota theme garden, ferns, water garden and sunken garden, there is truly something for everyone. The facility has received a number of sizable donations over the years and has greatly improved the facility for both visitors and the animals. (During COVID, you have to make an appointment to visit Como Park)
Conservatory access--If you arrive on the weekend the main conservatory doors are open and you can access the flower areas directly through the front entrance. If you come on a weekday, the access is through the main zoo building and you make a short jaunt traveling down a hall to get to the conservatory. Como Park rents wheelchairs, strollers, and scooters to help with mobility. With wide aisles for viewing, there are no worries as the trails are wide and it's easy for people to circulate around when you want to stop to take in some flowers you find particularly beautiful.
The Sunken Garden is a beautiful area of the conservatory that can be accessed either by a short flight of steps or by two elevators on both sides of the steps. Enjoy amazing azaleas and festive poinsettias in winter, multicolored tulips in spring, prized roses, and geraniums in summer, and cheery chrysanthemums in autumn.
Stay Safe
The key this fall and winter will be to stay informed and stay safe. With COVID being especially aggressive with our senior population we need to always practice reasonable and safe precautions. If you are thinking these technology solutions might help and your loved one may be inaccessible later--now could be the time to get the new tools in their hands or visit some places to reminisce about later.