The long winter is coming to a close and the Minnesota Twins start the regular season in Milwaukee April 1st. If everything goes right the Twins are set to take the field against the Seattle Mariners on April 8th at Target Field! Everything going right included the Governor buying into a proposal from the Twins to play in front of 10,000 fans starting with the home opener and increasing during the season as COVID becomes less of an issue--it is happening!

Target Field

Target field is a great venue for anyone to watch a Twins Game. The Twins have rightly been lauded for making one of the most disability-friendly stadiums in the country. They have nearly 800 seats that can accommodate people in wheelchairs or those who have trouble using stairs. How this will be impacted by the proposed COVID seating is unknown, however the Twins will likely maintain plenty of seating for their handicapped guests.
The Suite Level and all individual suites at Target Field are fully wheelchair-accessible. The Suite Level can be accessed by first entering through either Ramp A or Gate 29, and then taking elevators 9-12 to the Suite Level. A guest drop-off area is located outside of Gate 29 and Gate 14 for guests with mobility issues. All gates at Target Field are ADA accessible. If a guest that utilizes a wheelchair will be attending a game in a private suite, Target Field staff will remove an exterior chair to allow that guest access to view the game from the balcony of the suite. A 24-hour notice is appreciated to best prepare the suite for that guest.
Guests with mobility issues may use either of the Drop Off Zones along 7th Street, near both the Majestic Clubhouse Store and Gate 14. No accessible parking permit is required to use this Drop Off Zone, but this is strictly a drop off zone, with no parking permitted in this zone.

Public Transportation

Normally served by the light rail, more than 20 bus routes, and Northstar Commuter Rail line, Target Field is more accessible by public transit than any other ballpark in America. Metro transit is saying if the Twins are playing at Target Field they will service the games. Make sure you check the schedules prior to heading to the stadium. When exiting the game crossing guards give priority to handicapped individuals so they can get access more easily to public transportation.
Visit MetroTransit to plan your public transportation via Bus, Light Rail, or NorthStar Commuter Rail. Want personal help planning your transit trip? Call Metro Transit at 612-373-3333.

Food
Will all of our favorite foods be available this year at Target field? In the past if you went hungry at Target Field it would have been about the cost, not the availability! Hrbek's Restaurant, Section 114: is a two sit-down option at Target Field. Located in the home plate area of the main concourse, Hrbek's serves up a wide variety of soups, salads, sandwiches, desserts, and a full bar. Most of the venues inside the mall area have excellent accessibility. Now you just have to eat it without dripping ketchup or mustard on you!
Townball Tavern is a sit-down restaurant and open to the public, located in the left field corner area of the Club Concourse, between Section V and Section 229. The Tavern serves up soups, salads, appetizers, sandwiches, burgers (including the Vincent Burger, an Angus beef burger stuffed with braised short rib and smoked Gouda cheese from Minneapolis's very own Vincent Restaurant), desserts, and a full bar which includes Fulton Brewery's Sweet Child O' Vine IPA on tap. It is most excellent!
Seating
The best overall guide the Twins and Target field offer is in the ticket section of their online resource. If you check at the time this was written, it said "please check back later". In the future when you are looking for seats be sure to select the "accessible seating" option. This will only show you seating that is handicap accessible.
Fun Things at Target Field
Statues: Take a stroll outside the concourses at Target Field and you can't miss them. There are large statues coated in bronze honoring some of the greatest players, team officials, and fan favorites in Minnesota Twins history. The current statutes include Rod Carew, Harmon Killebrew, Calvin Griffith, Carl and Eloise Pohlad, Tony Oliva, Kirby Puckett, and Kent Hrbek. Who should be next? Tom Kelly, Bert Blyleven, Wally The Beer Man? Let the debate begin!

So just how good will the Twins be this year?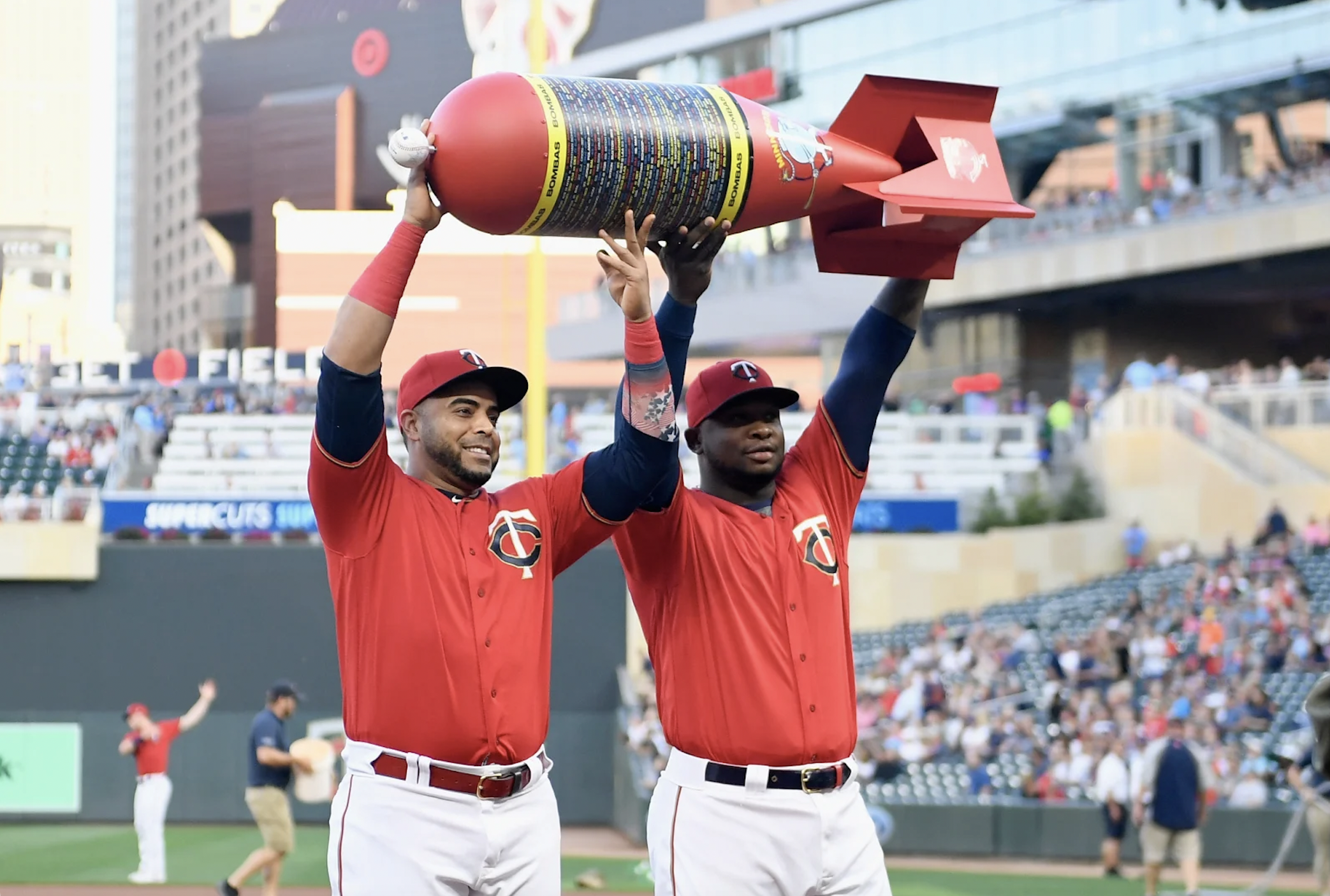 Once again the Twins should put a quality lineup on the field in 2021. According to the experts, the team improved their WAR score in the offseason which might indicate a few more Wins for the home team. For those of us that just want to watch the game and not mathematically analyze it, the Twins should be the LaBomba squad we love. With plenty of power they have Donaldson, Cruz, and Sano to terrorize pitchers while they can also beat teams with speed from Buxton, Arraez and Astudillo--well maybe not LaTortuga but as he has proven to us "chubby people can run too". If they stay healthy they can beat the competition with solid hitting across the entire lineup. Old reliables like Kepler and Garner will be joined by newcomer Alex Kiriloff this season. Taking hits away with precision fielding with the speedy Buxton flying around the outfield while Andrelton Simmons will likely replace Polanco at shortstop to improve defensively. This may move Polanco to second base and give Arraez the role of utility infielder.

Pitching always seems to be a revolving door in Minnesota. This year Kenta Maeda is likely to be the ace with Jose Berrios, and Michael Pineda returning as the two and three hurlers. According to the experts the twins picked up enough talent throughout the pitching rotation to win more games. They did it by finding affordable players, think Billy Ball, but they will need to weave them into a cohesive unit. All of this weaving falls under the direction of Wes Johnson who worked some magic to get the Twins into the playoffs last year. According to some experts, we will see even fewer innings pitched by starters and more by middle relief than ever before. Certainly different than the days of Blyleven, Kaat, and Morris.

The boys of summer are back and hopefully, we can all take in a game at Target Field this year, as it should be--outdoor baseball!