The Twin Cities theater scene is always exciting and a great way to spend time with a senior loved one. We've got a fresh look at the upcoming shows and how to maneuver around inside some of our fine theater establishments.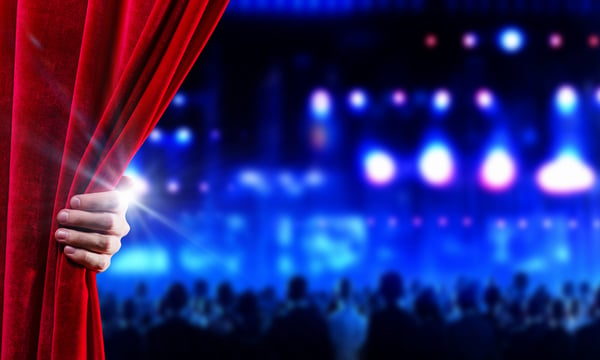 Twin Cities Theater
You can find outstanding theaters all around the Twin Cities. From small stages like Main Street Stage in Anoka to the 4 outstanding venues we have listed below. But wait, there is more! Check out Hennepin Trust that focuses on the downtown Minneapolis theater district or this link to theaters around the metro and state.
Theaters
Pantages
The Pantages presents Por Que Los Hombres Aman this is a stage play based on the book by Sherry Argov. Por Que Los Hombres Aman a las Cabronas is not only funny, but it is very realistic. Full of humor, it is the story of Giacomo Casanova, the Italian adventurer and author. Sherry Argov demonstrates in her work a method to avoid fear, become independent, and achieve what you desire in a fun way. Reopened in 2002, Pantages seats about 1000 and is great for those looking for a more intimate theater experience.
Pantages theater is located right next door to Seven Steak house and other fine dining locations in downtown Minneapolis. Pantages offers accessible seating on both the main floor and balcony seating areas. Accessible seats in the balcony do not require any stairs as they can be accessed by elevator. All theaters that are part of the Hennepin Theater Trust have wheelchair-accessible restrooms. The Pantages theater can also accommodate a guest or attendant of a patron that requires accessibility.
Guthrie
If you're feeling a little like a modern spin of a Greek tragedy, the Guthrie theater has an adaption of the Euripides' tale of hubris and tyranny. According to the theater, a disguised Dionysus descends on the city of Thebes to prove Zeus is his father and settle a score with his mortal adversary, King Pentheus. His attempts to tear the people's loyalties away from the king cause a frenzy of emotion that lands Dionysus in prison. Legendary director Anne Bogart gives this ancient tale a modern, razor-sharp edge. See it on February 29-April 5.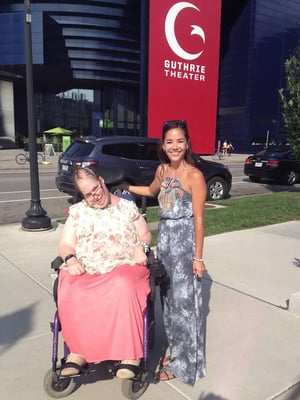 Unlike some of the other theaters we have featured, the Guthrie has a restaurant inside at street level. The staff is extremely accommodating and will help arrange tables and make space for large wheelchairs, or other mobility devices. The theater has it's own Accessibility Manager, Hunter Gullickson, who works to ensure that the Guthrie is welcoming to people of all abilities. Theater seating charts indicate seat locations reserved for patrons using wheelchairs, as well as seats with removable armrests. Guthrie theater staff make every attempt to seat up to three companions in adjacent or nearby seats. Wheelchair and accessible seat locations in the Dowling Studio are determined by the seating configuration for each production. A limited number of courtesy wheelchairs are available free of charge on a first-come, first-served basis. Patrons may borrow courtesy wheelchairs from the Concierge Desk on Level One.
Ordway
The professional musician, Sting, aka Gordon Matthew Thomas Sumner CBE, is an English musician and actor. He was the principal songwriter, lead singer, and bassist for the new wave rock band the Police from 1977 to 1984, and launched a solo career in 1985. Sting comes to the Ordway in St. Paul and will star as shipyard foreman, Jackie White, performing the role at every show. Inspired by Sting's 1991 album, "The Soul Cages," The Last Ship tells the story of Gideon, a prodigal son returning home after 17 years at sea to find that the local shipyard his town was built around is closing and Meg, the love he left behind, has moved on. Tensions flare and picket lines are drawn as foreman Jackie White (Sting) rallies the workers to take over the shipyard and build one last ship in the face of the gathering storm.
A love story, a tale of family and friendship, and a passionate homage to the shipbuilding community Sting grew up in, playing April 8-11th.
The Ordway is located at 345 Washington Street in downtown Saint Paul directly across from Rice Park. The main entrance on Washington Street is accessible and a cut-out area is available. Music Theater elevators operate between the Orchestra main level, Mezzanine 2nd level, and Balcony levels on the northwest side of the lobby. Concert Hall elevators operate on the main floor, 1st Tier, 2nd Tier level, and the Lower Level on the northeast side of the lobby. While the theater itself doesn't have food, it's never an issue in the area with a large variety of restaurants that run the gamut from Irish or Seafood to fine dining.
Chanhassen Dinner Theater
The Chanhassen dinner theater presents the Music Man and because it's a dinner theater, it's easy to determine where to eat! The show was a hit on Broadway in 1957. The music and lyrics by Meredith Willson are based on a story by Willson and Franklin Lacey. The plot concerns con man Harold Hill, who poses as a boys' band organizer and leader and sells band instruments and uniforms to naïve Midwestern townsfolk, promising to train the members of the new band. Harold is no musician, however, and plans to skip town without giving any music lessons. Prim librarian and piano teacher Marian sees through him, but when Harold helps her younger brother overcome his lisp and social awkwardness, Marian begins to fall in love. Harold risks being caught to win her.
The Chanhassen dinner theater has a strong commitment to providing accessibility to those that require special assistance. They prefer you to contact the theater prior to booking to let them know what your needs might be. They can assist with the following:
Accessible Entrances
Accessible Parking
Accessible Restrooms
Accessible and Reserved Seating
Assistive Listening
ASL Interpreting and Audio Description at select performances
Food Allergy Accommodations
Did your senior loved one take you to your first live play? The Twin City theater community is vibrant and it's a great time to get the entire family together to enjoy a play, comedian, concert or other offerings at these fine establishments. Get out of the house and enjoy a show together!