Home care costs can be much less than memory care or assisted living for persons with early to mid-stage Alzheimer's.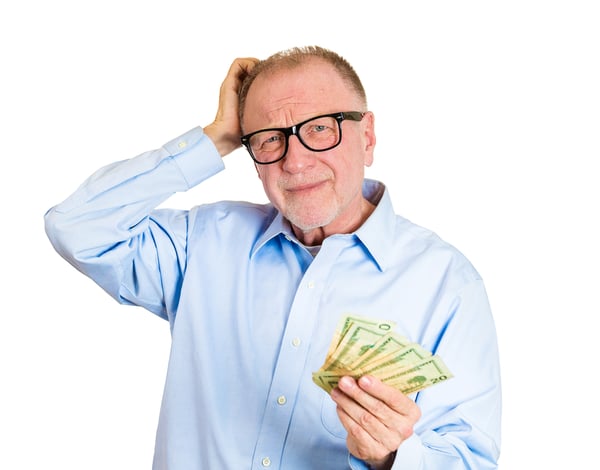 Many factors can impact in home dementia care costs. This may include the structure and layout of the home itself that may need modification, safety equipment, technology solutions, help that family and friends can provide, and how much professional help needs to be brought in to the home. Home care for seniors with dementia is relatively the same as for people with regular cognitive abilities when it comes to most home modifications. This is especially true in the early stages of Alzheimer's disease. As the disease progresses, safety concerns need to be considered and how the care providers need to modify their approach to assisting the person with the disease.
Home Modifications
Depending upon the physical health of your loved one with dementia, you may need to make or plan for some home modifications to support their care at home, especially as their condition progresses or if they begin to have additional mobility issues as they age. Things to consider at this stage include mobility, eye sight, arthritis, dexterity, strength and safety. A reasonable list of things you can modify in most homes would include.
Grab bars are essential for areas in the bathroom like the shower and bathtub. They can also be of great assistance near the toilet. It's something the home handyman can do themselves, but be sure to read the directions and put yourself in the environment to determine the best placement of the grab bars.
Ramps, even if your parents don't use a wheelchair, a ramp eliminates the need to navigate steps, which can make maintaining balance difficult, even with a banister. A 16-foot long ramp costs around $1,600. You can also get indoor threshold ramps that you put in doorways to form a seamless surface to transition from one room to another.
Bathroom heat lamps can make the transition from shower to getting dressed much more comfortable. People with Alzheimer's often dislike bathing and anything that can be done to make this a more pleasurable experience can make things better for the caregiver and affected person.
According to AARP, technology has become one of the most important developments in helping people stay in their own home as they age. Home technology like medical alert buttons, home security and remote monitoring or communication systems are particularly beneficial.
Faucets can be updated to allow for touch free operation. This can be both for safety and ease of use. Some faucets come with the ability to set the temperature so the senior can't be scalded.
Improve your lighting to maintain sufficient brightness throughout the home. This should include hallways and around doors to make these areas of the home brighter. Alzheimer's sufferers often avoid dark areas and will avoid them.
Home Monitoring
If you're looking for a home monitoring system specific to aging in place, a certified aging in place specialist can outfit your loved one's home with different sensors that you can monitor from your smartphone. You can know when your dad gets out of bed thanks to a pressure-sensitive mat placed next to his side of the bed. You can have a sensor put on the medicine cabinet door so you'll know if your mom takes her medicine. Likewise, you can have heat sensors installed on the stove and front and rear door sensors put in. Lighting can be controlled to maintain safety. Aging in place home monitoring systems like HomeExcept cost around $230 for the system and have a monthly monitoring fee around $20-$30.
Major modifications to homes can also be done. For instance, if there are a lot of steps you can put in stair lift systems.
Help from Others
Family and Friends can have a beneficial impact on the cost of caring for someone with dementia. Because Alzheimer's is a progressive disease, people in the early stages can still work with task lists, regular communications, and making sure medications are being taken and they are eating properly. Alzheimer's patients need a lot of support during this stage so they know they are not in this alone. Every journey with Alzheimer's is slightly different but if you can help them stay at home longer, it will help overall costs of the disease be more manageable in the later stages. Here is a more complete discussion of caring for an Alzheimer's patient at home.
If you have a good support network within your family (ultimately saving money) but still need professional help, ask how the company deals with caregivers outside of their organization. Some companies have shared calendars and family room style communications so they can more easily fit into the overall care plan. It's also very important to establish who will be the primary contact for the company to work with, this avoids issues that can lead to increased costs for added shifts due to confusion.
When it comes to dementia care, a wide variety of options will exist from company to company
Often, you will be looking at an hourly charge for in-home care services. In Minnesota, this can typically range anywhere from $30-$40 per hour depending on services, area, and the company you are working with. There may also be hourly minimums and weekly or monthly minimums required for service. According to the MN Department of Human Services, the average cost for 44 weekly hours of home care totals $60,000 per year compared to over $90,000 a year for nursing home care and $48,000 per year for an assisted living with no services and not including additional fees.
As hourly rates can be very competitive, it's very important to look beyond what the standard charges are covering and more at the experience a company and their staff has and how they plan on caring for your loved one.
What Influences Cost of Professional Care?
Many things can impact the cost of professional home care services. Home care in Minnesota normally breaks down into two different components. Basic services that could include companionship, errands, light housekeeping, transportation, meal preparation and other services that don't require the services of a nurse. Comprehensive services are tasks that the Department of Human Services has determined to require the supervision of a nurse. They would include medication management, safe transfers, catheter care, and others that are delegated and monitored by an RN. In some situations, companies may charge more for comprehensive care which often is not needed at the early stages of dementia. Here are some things to consider:
Basic versus comprehensive services based off of the care needs of the individual
Nurse services
Hourly and/or weekly minimums of scheduled care
Overnight Services asleep vs awake
Complex services provided by a nurse or delegated service from a nurse to an aide
Caring for multiple people in the home
Weighing the Costs of Home Care vs a Facility
Typically an Assisted Living is going to be the setting most people with Alzheimer's start with if they choose to leave home. Assisted Living can provide a safety net that reduces the opportunity for their resident to wander into the community. There will likely be other services available for nursing, entertainment and dining options. If the Alzheimer's sufferer does not have heightened safety issues, this may be a good environment. Costs often are ale-carte so as the the resident has increased needs, the costs go up in proportion. At an Assisted Living, there is no one supervising the person directly so there is an opportunity for injury from a fall or other-self related safety issues.
As stated above, the cost of Assisted Living in Minnesota, with no services or additional fees, averages $48,000 per year. Depending on the needs of the resident, the cost can reach upwards of $10,000 per month when additional services and fees are added. While home care can be more expensive if the patient needs extensive one-on-one care, home care companies and families have a lot of options they can employ to keep the patient safe and at a lower cost. This can be very helpful in the long run to keep overall long term costs more manageable.
Generally, if someone is safe living at an Assisted Living they would also be safe living at home. These individuals generally need limited supervision and are not a risk to themselves. Having a family or home care agency come in from one day per week to every day for a few hours is going to be much less expensive than living in an Assisted Living if there is no home mortgage. The caregiver can make sure the essentials are being met such as proper hygiene, nutrition, and cleanliness. This is a condition that is likely to change over time but can save money in the early stages that may be needed later as the disease progresses. Here is a list of things to consider for an Alzheimer's sufferer to live alone.
Check out our website for additional resources and information on in home dementia care costs!
Acknowledgments:
Mayo Clinic
Alzheimer's Association of Minnesota and North Dakota