How utilizing the Help of an RN for Care Management is Proven to Help Seniors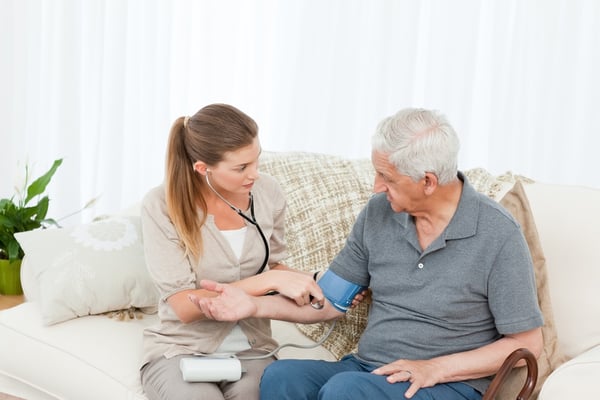 As we noted in our previous blog, RN Care Management is a reliable way to help seniors improve their health outcomes for most non-communicable diseases. With the help of an RN, a good action plan, and a client that wants to improve, there is a strong likelihood that the outcome will be positive. In case you missed it, check out this study on the facts on how RN Care Management is proven to help seniors.
1. RN Care Plans That Are Simple and Adaptable to Your Loved Ones Needs
RN Care Management is a resource that can be used to regain strength or improve the ability to control existing medical conditions. The RN develops a customizable plan that meets the needs of the client. For some clients, our nurse will accompany them to appointments with their doctor and other specialists to be an advocate for the client and help everyone in the family, including your loved one, understand the health situation and plan going forward. Other clients may choose to have the nurse set up and monitor medications to help ensure they are taking the correct dose and frequency.
In the event that your parent or a loved one are temporarily in a hospital or TCU, we can send our RN Care Manager or Care Coordinator to meet them and attend care conferences before they are released.. This helps us develop a strong plan of care and assist with the sometimes mind boggling list of things to do from the discharge process. Things like scheduling appointments for follow up and getting their medications set up correctly.
An RN Care Management Plan can include:
Medication management
Troubleshooting changes and challenges
Identifying and addressing any home safety concerns
Advocating for the client with other resources and services
Providing communication hub through use of the Family Room for all questions by family and client, especially families living at a distance
Providing caregiving oversight to coordinate, oversee, and be accountable for any caregiving services involved, including supervising and training caregivers
Working with client, family and other resources, facilitating family care meetings and planning for client
Protecting/promoting client independence by identifying and developing a plan of care to achieve goals
Providing ongoing education and guidance to the client and their family
Coordinating transportation for any activity, including accompanying to physician appointments
Assisting with any relocation, including tours and move coordination; assesses and analyzes living options to help identify 'best fit'
Helping plan and coordinate resources for seasonal needs including yard work, home cleaning, snow/leaf removal, and decorating
Encouraging/assisting client in maintaining social activities and hobbies
Comfort Keepers representative available 24/7 for concerns or problems that arise
2. Successful Clients can Reduce Services and Save Money as They Gain Independence
A complete plan may include many components but as time goes on, the plan can be modified to meet the needs of the client. For instance, they may start off needing a Caregiver but over time that need goes away as they get stronger from following the advice of their RN Care Manager. The facts bare out that RN Care Management can help your senior loved one improve both mentally and physically as patients reported they "felt" better. Feeling better helps emotionally and when we are engaged in a process, people tend to recover and need less help. Less help can extend financial resources longer and help your loved one live more comfortably in their own home.
Don't lose sight of the fact that the least expensive place to live is generally at home. Here's a calculator you can use to compare facility costs to the cost of staying at home.
3. Plans are Affordable and Change as Their Needs Change
Starting a plan before a significant medical event occurs can really help save money in the long run. If a senior has two or more medical conditions that would benefit from our basic plan they can start as low as $380 per month. The important element here is to avoid the spiral down which causes so much medical expense to the them. Staying as healthy as possible allows them to live in the place they want to-- home--which normally is both their favorite and least expensive option.
4. Your Loved One Has a Team to Help
The plan doesn't just include the RN, it also includes our Care Coordinators that can help you gain access to a wide variety of other services that are available in the community. This can include other professional resources like physical therapy, home handymen, or cleaning services. Let's say a key component to keep a loved one safe at home is being able to move safely around their environment. The RN and Care Coordinator will team up to make sure a home safety assessment takes place to reduce any issues right from the start. They can also work with one of our community partners to set up additional services. For example, an assessment for physical therapy. The therapist would either come to the home or we would arrange transportation to their facility. They would work with your loved one to determine a treatment plan. The therapist can also work with their insurance company to help understand any financial obligations for their services--generally they are covered by most plans. In this example they would likely strive to build up the client's strength and balance--perhaps suggest grab bars or other physical enhancements to the home. We can also help get those installed through a Care Coordinator. Imagine not having to chase down every detail!
5. Education for the Family and Your Loved One
Meeting with specialists, doctors and other medical professionals can stress anyone out. Even when leaving a hospital or TCU, the list of things to do can get long and confusing when you read their discharge papers after they get back home--what does this mean again--often is a question a few hours later? When there is no family available to attend the appointment the responsibility of explaining the issues falls back on the senior. Important information can be missed or medications can be left out or taken incorrectly. When an RN goes with them to the doctor those issues are reduced. The RN can explain to everyone the doctor's recommendations and diagnosis. The RN can make sure that all the families questions are asked and answered by the doctor. And the patient can get strong support from the RN and Comfort Keepers care team on the plan of care. We can even get an automated medication dispensing machines to help them not miss a needed prescribed medicine.
If you think RN Care Management is something you would like to explore, schedule a free consultation.