Support and Service Options Available to Help Care for Those With Dementia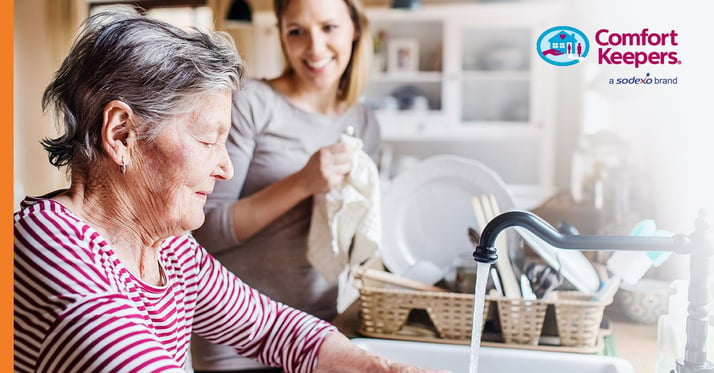 As an organization that has helped to care for seniors and their families for more than 20 years, we at Comfort Keepers® have witnessed the impact that Alzheimer's and dementia have on individuals and their families. In fact, approximately 18 percent of the clients Comfort Keepers serves have a primary diagnosis of dementia or Alzheimer's. Often called "the family disease," it is an especially nefarious affliction because its progressive nature forces family members to witness an inevitable and slow decline. At the same time, the stress placed on family resources – financial, emotional and otherwise – builds as their loved one's mental and physical degeneration demands increasing assistance.
Finding Resources for the Right Level of Personal Care
When a family is faced with an Alzheimer's or dementia diagnosis, they often make a commitment to keep their loved one in the comfort and familiarity of home for as long as possible. And indeed, studies have found that when families delay institutional care for dementia patients by keeping them in their homes or with family, patients live longer. Yet meeting the daily needs of their loved one can be both physically and emotionally draining. Last year, friends and family provided approximately 18.4 billion hours of unpaid care to loved ones diagnosed with Alzheimer's disease or other forms of dementia.
To achieve the best outcomes, families need help to make it all work, and will often turn to their loved one's physician and healthcare providers for additional resources. It is important to for families to keep in mind that because of the disease's progressive nature, the assistance they require today may be much different than what they will need in the future. Starting off, the family will likely be able to handle most of the care duties for their loved one among themselves. But as the disease progresses, additional help will likely be necessary.
Indeed, research suggests that patients with Alzheimer's or dementia experience mental and physical health benefits from participating in activities where they have opportunities to move around and socialize. The advantages include improved cognitive function, enhanced mobility, and a better quality of life.
In-home care services can be an ideal choice, as they combine the benefits of staying at home and the mental stimulation of meeting a new acquaintance. When an in-home caregiver regularly visits an Alzheimer's or dementia patient, a true relationship is formed. This relationship exists outside the senior's normal sphere of influence, so communicating with a caregiver offers a chance to learn new things and have a unique form of socialization. In-home caregivers don't just help around the house; they also provide companionship.
Additional benefits that can be offered by in-home care providers include:
creation and maintenance of a safe living environment
preparation of well-balanced meals
assistance with morning routines like getting up, bathing, toileting and dressing for the day
light housekeeping and laundry support
accompaniment to appointments, grocery shopping or prescription pickup
mental stimulation and memory activities that can help to slow the progression of Alzheimer's and dementia
respite care that enables the family to take time to handle their own needs or spend an entire weekend away to recuperate – all while knowing their loved one is in good hands.
The impact of Alzheimer's and dementia on families will always be significant, but with the help of an in-home care resource it can be lessened.