With the holiday season approaching you may visit your senior loved one and find their health has changed since your last visit. You may be thinking it might be the right time for some sort of help for them. You may also be wondering–what type of care and how much is needed. Read on…
Care Options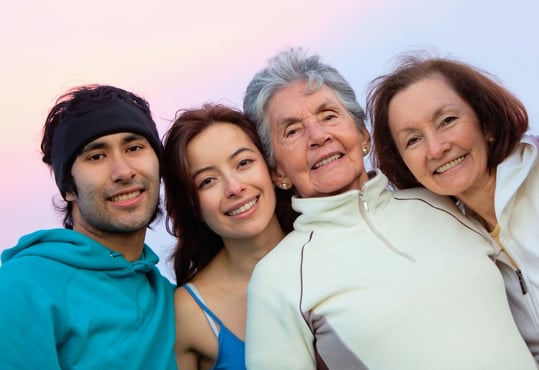 There are plenty of options available when it comes to senior care. Nursing homes assisted living facilities, residential communities and in-home care are opportunities to find the right fit for your senior. When determining the most appropriate option, consider physical and mental functionality, and if the elderly loved one has any medical issues, those will need to be factored into their senior care plan.
While nursing homes may be necessary if certain medical care and attention are needed, this option comes with less freedom and independence than other senior care facilities. However, one positive is that the elderly loved one will always be close to medical care. This could be the right choice if someone is extremely frail and does not desire or cannot afford to be at home with 24/7 care.
Assisted living facilities offer to house seniors who may be capable of functioning on their own, and offers health care close by if needed. Seniors in assisted living have the ability to come and go, cook for themselves and live fairly normally alongside other seniors. Often people think this is a good choice for frail parents that fall often or need medical attention quickly. Generally Assisted Living facilities are for scheduled options like bathing, medication, and helping with the start and end of a senior's day.
Home care is another senior care option and offers a customized care plan based on individual needs. Choosing home care for your elderly loved one allows them to maintain their independence and receive care in the comfort of their home. Many senior care services are available and include companionship care, personal care services, and specialized care. So whether the senior needs assistance with laundry, preparing meals, help with housework, incontinence, bathing, transportation, or support for a mental disorder, they now have the option of having a trained care professional come to their home to help them. This can extend all the way to end-of-life care at home. Starting early with home care can also be a preventative measure that allows seniors to stay healthier and live in their homes longer–which can save money.
How to have the conversation
When talking with an elderly loved one about their care, some tips for coming to the right conclusion are to:
Listen to the wants and needs of the senior

Take into consideration and write down any concerns the senior may have

Discuss each option openly and encourage both the senior and family members to have an open mind

Account for any medical issues that may need to be addressed

Look at which option will offer the most comfort and support for the senior

Remain calm and keep the discussion as enjoyable and positive as possible

Know when to walk away. Every question may not get answered and every aspect of the care plan may not get figured out in one sitting. Continue to revisit the discussion until the right care is determined
The thing to remember is that while the right time to talk to a loved one about senior care is different for every family, choosing the right care will ensure they remain as independent as possible and receive the quality of care they deserve. Often seniors are resistant to care so remember to be patient. It's difficult to have a productive conversation if you're frustrated. Remember that the physical and mental changes that occur with aging may cause confusion, forgetfulness, and other problems that make it difficult for older adults to have in-depth conversations about their needs. Make sure they know their well-being is your primary concern. With some parents, it might be helpful to suggest that getting the proper care will free up your own time to enjoy with them rather than caring for them.
Addressing the Concerns
Cost
Why is this important? An American Association of Retired Persons (AARP) study showed that 90% of all older Americans preferred to remain in their own homes as they age, and many seniors dread the thought of going into a nursing home. The reasons are understandable; aging in place has many benefits. Seniors who remain in their own homes as they age enjoy the consistency of belonging to communities where they may have lived for many years surrounded by friends and families. This offers both emotional and social benefits as they have an already established support network. Overall, quality of life is better when seniors are as independent as possible and can participate in their communities meaningfully. Remaining in the home also avoids the stress of relocation and acclimating to new environments, and, even more compelling: aging in place can be cost-effective.
Since many seniors own their homes outright, they may not have mortgage expenses. Even if they are paying a mortgage, the expense may be cheaper than the fees for assisted living, which are usually not covered by Medicare. On average, the monthly cost of an assisted living facility in Minnesota is $5000. This cost increases when you add additional services, such as cleaning, cooking, and so forth, which are usually sold a la carte. Nursing home care, which is also generally paid out of pocket, can be quite costly. Data from the Minnesota Department of Health show that staying in a nursing home at an average cost of over $11,000 per month, was more than five times as costly as aging in place in your home, at an average cost of $41 per hour and set up depending on the senior's needs. Most agencies have minimum hours in order to start services. If a senior only needs minimal help to start out with–allowing them to stay at home and continue to do things for themselves as much as possible–the annual cost for 2 shifts per week is just over $17,000 per year. The key is to start care early and keep the seniors healthy so they can stay in the place they prefer as long as possible. Proper nutrition, interaction with a caregiver, taking their medications, and some physical activity can greatly increase a senior's outlook on life–and their ability to stay independent.
Family Issues
Today, 80 percent of older Americans prefer to stay at home as they age. This means families are more directly involved than ever in their loved ones' senior care. So, it is more important than ever that families be involved in the planning stage together. No single individual should handle all of the responsibilities of caregiving alone -- certainly not on top of other work, family, and community responsibilities.
In most families, there is usually one sibling who, based on proximity to the aging parent, becomes the chief caregiver. Deciding who that person will be is a good topic for the first conversation with aging parents. Parents, of course, need to be involved in every step of the decision-making process, so they can maintain as much control of their lives as possible.
But no matter who is the chief caregiver, all siblings should share the responsibility somehow. This could involve home maintenance, managing bill paying and finances, or taking care of insurance and medical claim issues. If you are successful in sharing the work you can avoid burnout of any one person and keep the lines of communication open amongst family and parents. Don't be the person that takes on everything if others are willing to help. If you are the primary person your talents can be used in helping manage the situation with other family members while you may be involved in direct care yourself.
Also, do not forget the importance of frequent visitation no matter what solution you determine to take. As you brighten your parents' day, you can monitor their health and mental status and share concerns you have with their professional caregivers or coordinators. You may find that their elder care plan needs to be modified to address changing circumstances.
Generally, the burden of taking care of parents seems to fall on one person that becomes the primary caregiver. We have a guide "Caring for You Caring for Others" to help primary caregivers avoid burnout and consider many of the issues that come up for the primary caregiver.
Acknowledgments
CDC/NHIS Survey
Comfort Keepers
AARP
MN Department of Health