April is Mental Health Awareness Month. How do we help our senior loved ones when they suffer from mental health issues during the COVID-19 crisis? With our current sheltering requirements, it can be even more difficult than it normally is. Seniors that may have been feeling good about themselves two months ago may be experiencing the mental pain of being more isolated than they ever imagined.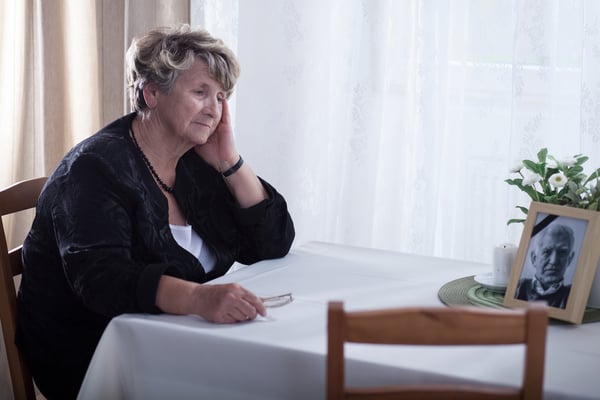 Feeling Trapped at Home
Seniors can find themselves in forced isolation, unlike anything they ever anticipated. Living in an Assisted Living that doesn't allow visitors, confined to your own apartment or small room during the current outbreak can cause tremendous heartache. Families want to visit but may be reluctant by the thought of introducing a virus into their loved one's home. Here are some ideas that might help.
Technology Really Can Help
Technology is playing a key role in social engagement for everyone--except for most seniors. Even tablets that seem easy to use in comparison to a personal computer often are confounding to the senior crowd. GrandPad was created for seniors from the ground up. All it takes is one dedicated family member to work with the GrandPad support team to set up what is the equivalent of a private family network. After setup, GrandPad has it's own support system built into the device to help seniors through any issues--reducing the amount of time family members spend troubleshooting.
One of the greatest benefits of GrandPad is the safety of the system. There are many apps on GrandPad but they are all within a safe network that protects seniors from scams or hurtful messaging from the outside world. It's controllable by the dedicated family member who determines what content is appropriate for their loved one.
According to GrandPad with a $40 monthly subscription, you'll receive a one-of-a-kind tablet, along with senior-friendly accessories designed to make the device comfortable and ergonomic. The smart case protects the tablet while remaining soft to the touch. The charging cradle eliminates the hassle of wires from the charging process. The durable stylus makes interacting with the tablet a breeze. All of the user's preferences and contacts come preloaded in the tablet so it's ready-to-use right out of the box. It also works on its own cellular network so you don't need wifi. It also comes with a 30-day risk-free guarantee.
Hearts in the Window
If you're looking for a little lower-tech, yet fulfilling experience, get involved with the Hearts in the Window crowd This is a way for people to spread joy to their fellow man as they walk or drive by your home. Seniors can decorate their doors or windows, even if they are living in a facility, with paper or paint on the glass. It's a great sentiment for everyone--we are all in this together. Facebook pages exist for a number of similar sites and there are interesting photos that have been posted--some of the decorated walls, doors, and yards.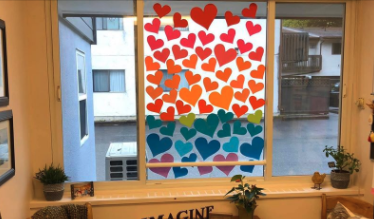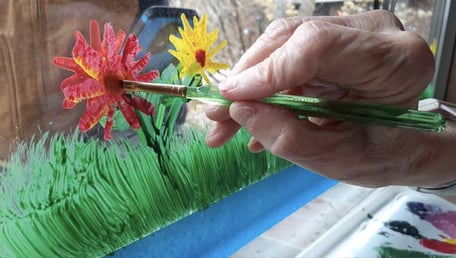 Play Games
Try word puzzles, crossword puzzles, jigsaw puzzles, and games like Sudoku to keep your brain healthy and stimulated. If seniors are online, they could try a fun app called Houseparty. The app lets you play with a community of friends and family that you get to pick. Popular games like trivia, heads-up or a game where everyone tries to guess what the artist is trying to draw--good luck with that one! It's all about keeping your mind stimulated and if you can, staying connected with other people.
Set Up a Bigger Calling Network
Many people are so busy in their daily lives they often don't have time to spend chatting on the phone hence the high usage of texting. With social distancing and sheltering at home orders, relatives and friends might jump at the chance to make a phone call to your loved one. See if you can space them out so they last for some time. Perhaps even suggest setting up times for the next call.
Visiting Safely at Home
People 85 and over are even more vulnerable to Coronavirus, with a death rate from the virus between 10% and 27%, according to the Centers for Disease Control and Prevention (CDC). That makes visiting them an even more difficult challenge. Mental health is also very important so making this decision more difficult.
You cannot rely on how visitors feel physically before they go to see the elderly. According to the CDC, you can be contagious days before you manifest any symptoms or never have any symptoms at all and be spreading the virus. It is such a big trade-off because interacting and being socially engaged is so important to get through this difficult time. But we know from what's happened in other countries already that the best prevention is the more you social-distance and keep away.
There may be exceptions where someone feels compelled to visit someone that is very frail. If you do, keep some basic things in mind.
Keep Yourself Well First
First and most important, as a caretaker you should take all the precautions you can to avoid becoming infected yourself. Here are the basics:
Wash your hands frequently with soap and water for at least 20 seconds before and after providing care, preparing food, using the bathroom, or touching surfaces in public places.
Avoid crowds, and if you cough or sneeze, do so into the bend of your elbow or into a disposable tissue.
Keep your hands away from your face.
Clean frequently touched surfaces in your home often, including mobility and medical equipment used by your loved one, such as walkers, canes and handrails.
When you visit
Wear a protective mask to prevent the spread of germs.
Wash your hands after arriving for at least 20 seconds with soap.
Keep your distance as much as possible--6 feet is best.
Limit your visit to less than 20 minutes.
As the Hearts in the Window folks say, we are all in this together. Let's find ways to keep everyone's spirits as high as possible.