April is Parkinson's awareness month so it seems like an excellent time to consider things we can do to help with the disease.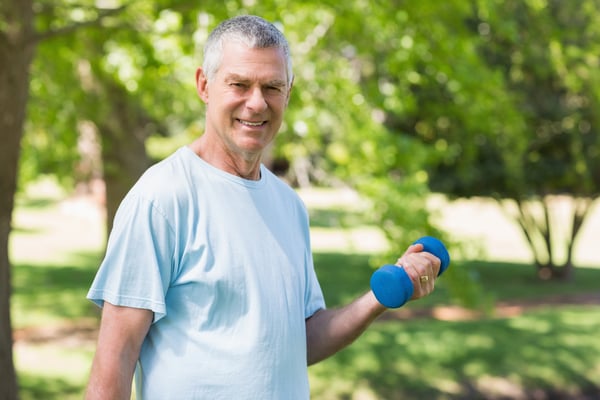 Parkinson's is a progressive disease of the nervous system marked by tremor, muscular rigidity, and slow, imprecise movement, chiefly affecting middle-aged and elderly people. It is associated with degeneration of the basal ganglia of the brain and a deficiency of the neurotransmitter dopamine. It's the second most prevalent form of dementia to Alzheimer's.
Exercise is important for everyone. For people with Parkinson's, it is vital to maintain balance, strength and mobility so they can do their daily living activities. Parkinson's quality initiative studies exercise and the benefits to those suffering from the disease.
Parkinson's Outcomes Project research highlights:
Regular neurologist care can save the lives of thousands of people each year.
People with Parkinson's who receive different medicines and treatment plans, depending on where they receive care, show vastly different results.
Increasing physical activity to at least 2.5 hours a week can slow the decline in quality of life.
Interventions providing neuroprotective benefits, such as exercise, could change the course of the disease.
Depression and anxiety are the number one factors impacting the overall health of people with Parkinson's.
Caregiving plays an important role in the care people with Parkinson's receive. Understanding how to best provide day-to-day care will help improve the quality of life for those with Parkinson's.
Focusing on the exercise component of this study can help in multiple ways. Exercise is known to reduce depression and anxiety. Part of a caregiving routine can include exercise, walking, playing catch with a beach ball even when seated helps keep Parkinson's sufferers active and enjoying life longer.
These recommendations may seem like a lot to some people. Start slow and build up to the 2.5 hours per week--and of course check with your doctor before beginning any exercise regimen.
Here are some ideas that may help:
Riding a stationary bike can be an excellent way to achieve a high level of activity for an hour or so. According to pedalingforparkinsons.org it's a form of exercise that nearly everyone with Parkinson's disease can perform. Recommending this exercise three times per week at various speeds, including the time to warm up and cool down can increase flexibility and strength--which may help with walking!
If you're able, dancing is a good form of exercise too. Get those dancing shoes on again! Dance of course requires training, balance and some agility so it makes sense that it's a great way to stave off the impact of Parkinson's. Check out YouTube, buy DVD's, read about the research, or even join danceforpd.org for some great ideas.
Looking for a more layered approach to exercise? OhioHealth started a program that looks at Parkinson's exercise from a variety of perspectives. This is great for those folks that may need to start seated and graduate to more high-intensity training. It's an evidence-based fitness program that can help with balance, slowing of movements, depression, rigidity, stooped posture, walking gait and more. Classes are offered across the country. To find out more, visit their website.
Now that the weather is getting nicer it would be a great time to start a training regimen to reduce the impact of Parkinson's for yourself or a loved one.
For additional information and resources on Parkinson's disease and other senior-related care, check out our website!