Often the decision to stay or move is emotional as well as financial. If your goal is to age in place for life, it would be wise to start making changes in advance. Perhaps you have been considering how you can modify your home to make it more appropriate for aging in place. As we look at our options, we must ask ourselves a few questions: Is the cost going to be higher than just selling and buying something already set up for normal aging or a disability? What are the major considerations for modification? How long will I be living in my modified home? What are my goals as I age?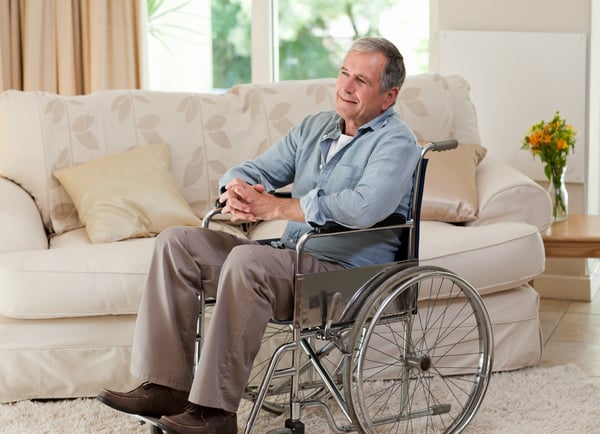 I Want to Stay in My Home. Now What?
Modifying your home will take time and money. Good decisions are generally done when you're not under pressure. Proper planning can also lower the cost and allow you to look at more options. Every person's physical disabilities and how they are impacted by their home are different. We have taken a look at some of the issues we see on a regular basis to help you start considering your own situation.
Issue: Stairs to the Bedrooms
Solution 1: Main floor Modification
Some people opt to modify their old dining room and half bath to provide main floor living space. This can be a reasonably priced option depending on what you have to work with. Half baths usually require enlargement in order to add a shower. If you're truly considering living at home for life try to make the bathroom large enough for wheelchair accessibility. The American Disabilities Act (ADA) lends advice for the size and layout of bathrooms to make them functional and you can find contractors that specialize in this. Even if you can't conform to ADA, you can do things to make it easier for assistance in the bathroom with the placement of the toilet and making sure the doors are large for access. Other things you may find helpful would be toilets that are raised and sinks that have recessed space under the countertop so a wheelchair can fit under the cabinet.
What will this cost? Bathroom modifications can be very expensive depending on fixtures and the work involved in the modification. The range for modification of an existing bathroom runs from $15,000 to $30,000 and new additions can run up past $90,000. Obviously, this is an expensive decision for any homeowner.
Solution 2: Adding an Elevator or Stairlift
Stairway use is involved in 1,900 deaths and 1.3 million hospital emergency room visits per year in the US (Source: National Safety Council 2011; Pauls 2011)
Adding an elevator is a costly option but it might be a consideration if mobility problems are long-term. For instance, if you are wheelchair-bound, but otherwise still healthy, the long-term use of an elevator is safer and easier than transferring off of a lift chair at both ends of the stairs. Elevator installation can be done in a variety of places in a home, or even outside running between floors. The cost of doing this will run from $20,000 to $50,000 depending on what type of elevator is selected and modifications needed to the home.
Stairlifts are much more economical especially if you have a straight run of stairs. Typical ranges for completing this task run from $2000 to $9500 on straight run stairs but start at $9500 if there are turns involved. Some consideration needs to be given to the width of the stairs and your local laws for egress. If there is a fire the stairs are generally the fastest way out of the house. There needs to be room for people to walk past the lift device, typically the stairs need to be 40" wide to accommodate other users. Another common consideration is to have grab bars at the top and bottom of the lift to help transfer to wheelchairs.
If someone is relatively healthy they could use something like Assisstep which also helps them maintain more strength overall. Staying active helps you maintain your overall strength allowing you to live independently for a longer period of time. It would be a good idea to check with your doctor and/or an occupational therapist to get their opinion on what might work best.
Issue: Steps into the House
Solution: Putting in a permanent ramp that lets you enter your home using a walker or wheelchair can make your daily life more manageable at the cost of about $900 to $2000 when done by a professional. The price of a ramp will vary according to the type of materials used and the cost of labor. A ballpark estimate is $100 to $250 per linear foot. You can calculate based on the standard ramp size of 30 feet long, 30 inches wide, and 30 inches high. A portable ramp without installation can cost as little as $60 on up to $800, although they aren't as aesthetically pleasing. Portable ramps can be rented for short term use. Be sure to ask your contractor to build the ramp to ADA standards. In Minnesota, an outdoor ramp that's too steep can be very difficult to use in the snow and ice.
Issue: Non-Slip Flooring
Solution: Falls are a leading cause of death and injury for older Americans. Many of those injuries — about one-third — take place in the bathroom. One way to reduce slipping or falling on a wet bathroom floor is to replace the floor with a nonslip surface. The cost of this project professionally installed runs from $6,400 to $11,000. If you choose to do this project yourself, a variety of materials such as rubber flooring, slip-resistant vinyl, or cork offer traction or cushioning and cost less than $3 per square foot. Non-slip rugs are another option and generally cost about $10 to $15. A slip-resistant bath mat with suction cups is only about $10. A non-slip spray is between $20 and $30, and water-resistance adhesives go for about $40 to $50.
Issue: Basement Laundry Room
Solution: If you have room in your home to move the laundry to a spare bedroom the cost may not be too high. Often basements in older homes have dropped ceilings or no ceiling at all. In these cases moving drainage and supply pipes can be done more easily. Drainage pipes would generally be PVC and fairly easy to work with. Using Pex piping also has simplified the task of getting pipes through walls and connecting to existing water supplies. If you make these changes you may want to consider them as temporary and leave the plumbing in its existing place in the basement so the resale value is not impacted. If your bedrooms are large you could have the laundry put into a closet and turn the room into a den. (This may require moving a wall.) Main floor laundries are more common today so the change may be a positive thing in case you want to sell later. Doing the work may depend on how many handy people you know and the need for meeting building codes which can vary from city to city.
What will this cost? This will be a range of expenses depending on how much you can do yourself and with knowledgeable friends or family. If you have the work done, according to Home Advisor, Converting a closet to a laundry room ranges from $2,380 to $6,600. You will need to add washer/dryer hookups, which costs $350 to $2,000. Plus, you will need to pay $150 to $185 to cover outlet installation costs. If you do not have existing appliances to install, you will need to buy those, too, for $275 to $1,300 each.
Considering Moving Instead?
Buying New
There are so many options for seniors today that are willing to relocate that it would be an entirely different blog. Looking at options that might be very senior-friendly and still have the feel of your own home? Del Webb comes to mind. Del E. Webb Construction Company was founded in 1928 and developed by Del Webb and headquartered in Phoenix, Arizona, The company has major retirement communities all over the United States and recently added Minnesota to the growing list. The company specializes in building homes that meet the needs of the again population. The communities include a center for owners to meet and participate in a huge variety of activities.Homes range from the low $300's and up over $600K with upgrades.
Look into Options and Start Early
The cost of setting up your home for aging in place and the home modifications that might be needed require a considerable amount of planning. Everyone has their own taste when it comes to decor so estimates are broad-ranging. Once you have some idea of what it might cost, you can compare it to other options to make a well-informed decision.
For additional information and resources on Aging in Place, check us out on the web!
Acknowledgments
Fixr
Home Advisors
National Institute on Housing