There is an abundance of ways to exercise your creativity and expand your mind even during the winter months. They can range from online resources to discounted college classes to crafts. There are so many things you can do to have fun and learn some interesting new things.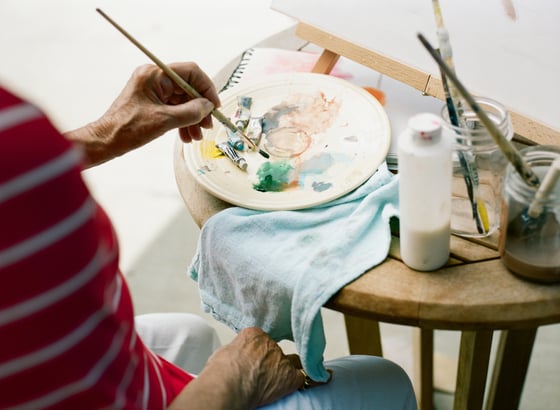 College Classes
Minnesota has a law (SCEP) that allows for all seniors to take classes at a very minimal cost. The law applies to all state-supported institutions of higher education in Minnesota. Minnesota residents who are aged 62 or older may enroll in courses at a state university, technical college, or community college for reduced costs, either to audit or earn college credit. It might be time to pursue that law degree, take a photography course, or just increase your knowledge on some topic you have always been interested in. They do have tuition-paying students prioritized but seniors can get into any unoccupied seats. At the U of M the cost is just $10 per credit and you can enroll in advance. At community colleges they have you enroll the day after the first day of class to make sure there is room. You do need to be a Minnesota resident. Click here for more information.
Art Classes
In the Anoka area, The Rum River Art Center (RRAC) puts together programs for the over 55 crowd--they call Vitality Arts. These are specific projects you can sign up for in advance which have an instructor available to provide assistance. They range from things like pottery work and watercolor paintings to working with clay tiles. According to their Director, Larry Weinberg, "From our research, we found that many older adults can't afford the costs of classes or are hesitant to try them. These conclusions brought us to develop our Community Senior Art-reach program. RRAC believes in teaching the process of creating art and helping students realize what they can accomplish. RRAC believes in the power of the arts and the important role it plays in the lives of our students. The arts are valuable for not only the social and psychological benefits but also for the physical health benefits." RRAC offers classes and programs at the Center four to five days a week. Some students come to classes just for the social part. RRAC studios are ADA compliant with ramps to all the various studios. They have plenty of parking and are on a bus line. A great opportunity for a family member to sign up and take a class side by side with their senior loved one. They even have a cafe and small store--located in the historic Old Milk Factory 2665 4th Ave. in Anoka. They email a really good newsletter once a month letting you know what's going on. If you're interested give them a call at (763) 323-8830.
Online Like Never Before
Going online and looking for creative ideas or games is better than ever. If you have a tablet, smartphone or laptop you can access a number of great apps or sites that help you express yourself, learn something new or play a game. The current top game as an app on IOS is Polysphere–art of puzzle. The game is available on Google, IOS and Android and is a brand new puzzle brain teaser that trains your brain. Swipe to rotate the puzzle until you see a complete picture. Dive into a whole new 3D puzzle experience. Relax and enjoy the masterpieces you can create.
If learning is your thing try Masterclass. MasterClass is an online learning platform that streams lessons delivered by recognized masters of their craft. Membership to MasterClass includes access to a catalog of 90-plus classes taught by internationally recognized chefs, photographers, athletes, and more. Learn how to cook with Gordan Ramsay, leadership from Bill Clinton, acting from Ron Howard, or science from Bill Nye the science guy. Right now during the holidays, you can get a 2 for 1 holiday special–sign up with a friend and enjoy talking about the application with your friend over coffee. Packages start at about $15 per month. If you're wondering what it would be like to have Gordan Ramsay as an instructor click here. This doesn't even seem nearly as bad as Kitchen Nightmares or his other popular shows.
If you need to get your body going before your creative work check out this blog on Functional Fitness. Designed for seniors to keep moving! Make sure you keep the doldrums of winter from seeping into your body by trying some of these ideas to keep active this winter!