3 easy ways to celebrate the holidays no matter where your loved one lives.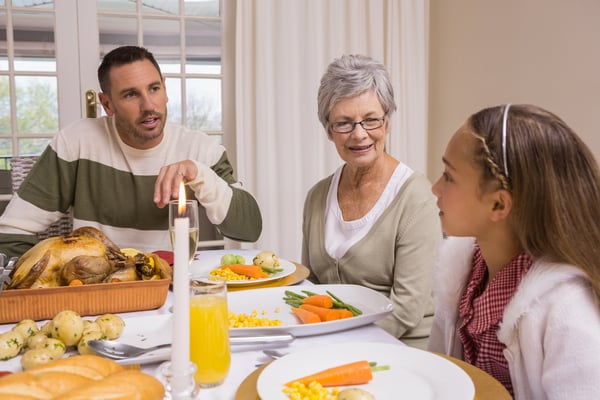 1. Relax
Before we get to the decorating and other activities, here are 3 suggestions taking a moment to unwind during this busy holiday season:
Create a quiet safe space – a room where anyone can go to take a break and get away from the mayhem.
Allow for Some Downtime – be sure to take a break for yourself whether it's before breakfast or before bed, take time to catch your breath and recharge. It's easier to enjoy the holidays when you get a break.
Be Flexible – remember the whole point of being together is enjoying the time you have together. It's OK if everything doesn't get done. You're with loved ones, so relax and enjoy the moment.
2. Deck the Halls!
If your loved one lives independently, try to keep the holiday decorating as much like they want it to be as possible.
Play holiday music while you decorate to set a festive mood--it's easier than ever to find the old time music online. Maybe make hot cider or hot chocolate. Great memories are often brought on from scent.
Make children a part of the rituals if the elders enjoy that and the children can participate--everyone develops a great memory!
Use your parents' treasured holiday decorations. Talk about each piece as you pull it out of storage. If the elders cannot be active in decorating their home, ask questions. Where would they like the ornaments placed? This is especially important if the person now primarily resides in his or her recliner. Put favorite items where they can easily be seen and enjoyed the most.
You can help with holiday cards or rituals. Your help in addressing envelopes can be a boost to their morale. You may need to help by signing the cards. This helps them keep in touch with old friends.
Be on the lookout for cards and other news they receive from old friends. Often, the news they receive is not good. Someone's spouse has died or is very ill. Someone else is now in a nursing facility and not adjusting well. Cancer has returned to a special friend. You get the picture.
Also, ask about phone calls. Did they get a call from so and so? What is going on? Watch for signs of sadness and even depression over news from old friends. Perhaps your company is especially needed on a certain day.
If possible, have the festive meals at your home, or plan to cook at your elders. Take the load of being a host off their plate. Make sure they have leftovers from the meals, if they enjoy that. Many facilities have a party room you can rent for that large gathering.
Offer to shop for and wrap gifts they want to give to friends and family or teach them about online shopping.
Help them scale down and simplify in ways that could make their holidays less stressful, but don't emphasize their losses. Ask what they want, and try to make it happen to the best of your ability.
Encourage your loved one to tell stories of the past. It's a great idea to video these stories so you can archive them for your family and share them for years to come.
3. Stocking Stuffers
Lastly, there is no need to go overboard on gifts during the holiday season – your company is most likely the most desired item – that you can provide in abundance! If you want to top off the stocking with a small item or two here is an affordable under $25 gift list curated for your seniors.
As you can tell, the central theme of these tips is including your senior and engaging them throughout the holiday season. This is a core pillar of our Interactive Caregiving philosophy – whether you are the primary caregiver for your senior loved one, a family member or are considering a professional caregiver for assistance, be sure to engage your senior this holiday season and make it a memorable one for yourself and your senior.
Elevating the Human Spirit--Companionship to Combat Loneliness
During the Holidays Comfort Keepers® can offer the support seniors and other adults need to combat loneliness and isolation. Many of us live away from our loved ones and this we can help make the season brighter. Every person has an inner spark. It's something age and illness cannot take away. At Comfort Keepers®, we go beyond daily care needs to nurture those unique qualities and bring about a sense of hope, connectedness, purpose, and most importantly, joy. We help people reclaim all that life has to offer. This is precisely what Elevating The Human Spirit is all about. When we lift people's spirits, research shows they feel better, live longer, and experience life more fully.
Our caregivers forge strong connections with clients – and through our proprietary approach to care, called Interactive Caregiving™, we emphasize meaningful engagement and interaction. We can help clients cook a favorite meal together, set up decorations, play games, address holiday cards, and assist with any other activities that enhance well-being and quality of life.
In addition to the companionship from our caregivers, we can also assist in getting clients to any family events or festivities so that they can spend time with friends and family, partaking in family traditions.
Our Caregivers Are:
• Selected after a rigorous interview process, including national background checks and personal and professional reference reviews.
• Our employees, not contractors.
• Bonded, insured and covered by workers' compensation.
• Specially trained to provide an interactive care solution for clients.
For more information on how in-home care can help senior and other adult clients enhance emotional well-being, during the holidays and year-round, contact Comfort Keepers today.