As we get older, feeling truly at home in our space may include some new adjustments. Simple changes to improve safety or add a touch of joy can make all the difference when it comes to maintaining physical and mental well-being.
With a few home modifications in place, seniors can maintain a fulfilling quality of life and independence in the comfort and familiarity of their own homes.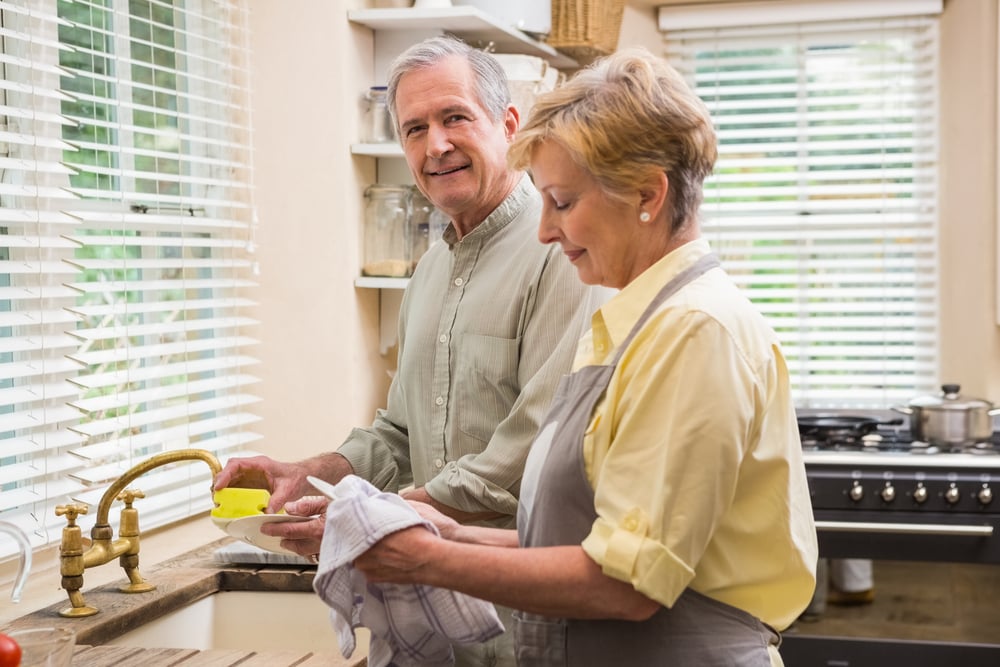 Minor Modifications–Aging in Place Lite
Getting the family involved to make some adjustments can make a home livable for seniors for much longer. Make a weekend of it! Commonly recommended modifications include:
Moving furniture to create clear walking paths

Applying non-slip tape on uncarpeted indoor and outdoor steps

Replacing doorknobs with lever door handles

Moving frequently used items to lower cabinets

Removing throw rugs that may cause a fall
Having some of the family around to help make these changes can make a home much safer for a senior. Moving a couch for a college kid is much easier than a 70-year-old, so flex those muscles and help! Take a look at this video for some inspiration!
The Most Dangerous Room in the House
Did you know? An estimated 80% of falls in older adults occur in the bathroom, making it the most important place to evaluate for safety in most homes.
Some key things to consider when you are looking at bathroom modifications:
Install grab bars–inside the shower/tub and near the toilet

Have a shower chair available to sit while bathing

Make sure there is good lighting

Get rid of rugs that can cause a fall

Install non-skid strips on tile and in the tub

Raise the toilet seat

Have a board available to slide onto the toilet or shower chair
All of these things can be done relatively inexpensively and in a short period of time. Grab bars require extra care when mounting to be sure they are secure. Slide boards require some skill in using safely, you may want to check with a doctor. Seniors may resist the removal of throw rugs and if it becomes too difficult, you can consider taping the edges to the floor to reduce the issue of it bunching up underfoot. For more ideas check out our blog on preventing bathroom falls.
Extensive Modifications–Aging in Place Heavy
When a person decides to age in place forever they may need to consider more major modifications. This can involve a number of professionals that now work in the senior sector to make sure both money and value are considered during the process. This may include the help of an Occupational Therapist that can look at a person's particular needs when they are planning a major remodel of their home. Here is more information on these professionals and things to think about to make your home your forever sanctuary. You may also be wondering what all of this might cost. Good decisions are generally done when you're not under pressure. Proper planning can also lower the cost and allow you to look at more options. Our Home Modifications for Aging in Place blog may add some additional light on the cost side.
For starters, creating a home sanctuary is a very valid weekend task for a family to work on together. If there are difficult health issues to consider, the work may be more difficult and require more professional help. Take heart, professionals are out there and are willing to help you make your home your forever sanctuary.