Pulmonary Rehabilitation (PR) is a program of education and exercise to increase awareness about lungs and COPD. The goals of the program are to achieve exercise with less shortness of breath and increase the sufferer's knowledge to cope with living with the disease. The classes are generally offered in a group setting to get the chance to meet others with the condition, which provides an opportunity to give and receive peer support. The skills and knowledge learned in the program can help patients feel better and manage their chronic lung disease. They set a realistic goal of becoming stronger by increasing your exercise which will increase your level of fitness.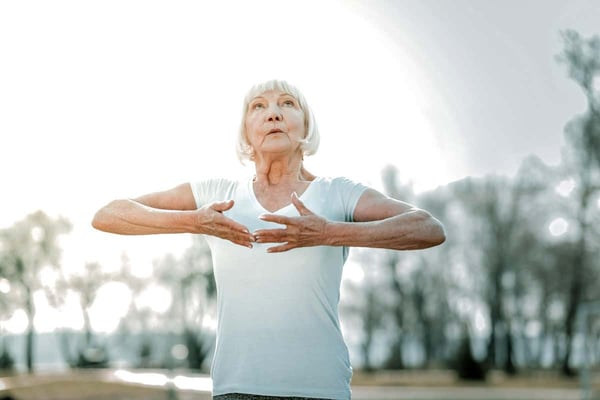 There are also online Apps for COPD that may help and not require the group setting. Apps like Beyond COPD or the COPD pocket consultant guide from the COPD foundation are specifically to help with control and living with the disease. The phone-based apps can help manage the condition as well as assist with exercise ideas but come up short when looking for group support. These Smartphone-based applications may not be as good but during times of illness or mandated shutdowns, it's an alternative to consider. Search for COPD Pulmonary Rehabilitation in your App store.
What Does the Program Look like?
People enter the COPD Pulmonary Rehabilitation programs at all COPD stages. Patients may be on oxygen or just not be able to complete daily tasks or get enough oxygen to exercise despite using their medication daily. When you start PR, your therapist will assess you. They may have you do a six-minute walk test while measuring the amount of oxygen in your blood. This will show the therapist how much oxygen you need during different types of exercise. Your therapist will guide you through the exercises and help you use your oxygen.
A variety of medical professionals are generally involved in this sort of program. The rehab team often includes doctors, nurses, physical therapists, respiratory therapists, exercise specialists, and dietitians. Together, these health professionals create a personal program to meet your specific needs.
To help understand your progress the team may ask you to monitor your condition. This can include simple testing at home, like a peak flow meter and blood oxygen test, or newer technology that's being used for continual patient monitoring. For instance, a unit from Spry Health uses optical sensors to measure oxygen saturation in the blood, respiration rate, and heart rate then connects to a software platform that analyzes the data for early signs of an exacerbation. This FDA approved device can send information to a monitoring center that uses the information to determine if the patient needs to act on their changing medical condition. The clinical trials and research built up by companies that provide these devices allow for early detection of changes before the patient may even be aware anything is changing. It's the intention of these types of devices to greatly reduce the need for ER visits and make life more tolerable with COPD.
Pulmonary Rehab and Exercise
While there are several critical areas to think about when it comes to PR, exercise is a key component. Here's some more about these exercises, which may be one-on-one with a trainer or in a group:
Lower body: Most rehab centers offer a set of exercises that center on leg workouts. They vary from simply walking on a treadmill or around a track to more intense stair climbing. Most of the proven benefits of pulmonary rehab are shown in studies of people doing leg exercises.
Upper body: The muscles in the upper body are important for breathing, as well as for daily activities. Arm and chest exercises might include turning a crank against resistance or just lifting your arms against gravity.
Breathing: Blowing through a mouthpiece against resistance may increase the strength of your breathing muscles. These exercises may be helpful for people with very weak breathing muscles.
Strength training: Most pulmonary rehab exercises focus on building endurance. Adding strength training, such as lifting weights, has been shown to be helpful as well.
Can Insurance Help?
The cost to patients for Pulmonary Rehabilitation depends on insurance coverage and the program you choose. Medicare covers pulmonary rehabilitation for COPD if you meet certain requirements. Medicare may also cover rehabilitation for other lung diseases, but that depends on where you live. The pulmonary rehabilitation program coordinator can tell you if you qualify and what the costs will be for the program designed for you.
Your doctor should be able to recommend a PR program for you. All of the major hospital systems in Minnesota have their own programs along with specialty clinics and transitional care units.
For more information and resources on COPD, check out our website!
Resources:
The COPD Foundation
The American Lung Association
Web MD
Drug Topics
Newscientist.com